If Paul Ryan Thinks Trump is 'Disgusted By White Supremacists' He Hasn't Been Paying Attention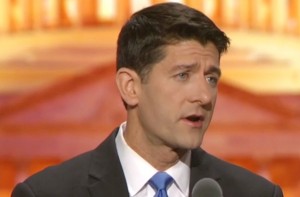 Anyone who is disgusted by white supremacists would probably not suggest that "some" who attended a rally to assert the superiority of white people were "good people." But House Speaker Paul Ryan, always there to figure out some way to defend a president who has previously suggested he is unfit to be Speaker, doesn't seem to think this is the case. In a Thursday interview with the New York Times, Ryan said in no uncertain terms that President Trump was "disgusted by" white supremacists.
"I really think he's disgusted by these people," he said. "And from the conversations I've had with him, I know he's disgusted by these people. I mean, good grief, his kids, his grandkids are Jewish."
Yet, oddly enough, Trump's own words seem to send the opposite message. Last month, not only did he suggest that people who perpetrate racism are equal with people who show up to protest it, but he even said that some of these proud perpetrators of white supremacy were "good people" — he couldn't say the same for those protesting them.
Ryan himself was one of a handful of Republicans who disavowed the president's message, and yet now he seems to have merely shrugged it off.
"I think he made the right statements — I don't remember the days — on Monday and Thursday, but not on Tuesday," Ryan said to clarify that he did not approve of the president's equating of the supposed "alt-left" and neo-Nazis. But despite seeing, or, rather, hearing the president's racism on full display — to the extent that he himself disavowed these words, Ryan is still unwilling to call it out.
Ryan didn't disavow the pardoning of a sheriff whose career was paved with racial discrimination and excessive, sickening brutality for no reason — he didn't disavow a tape in which the president boasted about sexual assault, or speak against the president's decision to rescind a program that allows undocumented young people to stay in America for no reason, either. He recognizes how despicable each of these individual statements and actions are, but party loyalty halts him short of publicly connecting the dots and calling Trump what he is — a racist or, at the very least, someone who sympathizes with racists.
In this latest interview, however, Ryan goes farther than just turning a blind eye on the truth — he tells an outright lie in saying the president is disgusted by white supremacists, and everyone who heard the president's own words sympathizing with and defending them knows it. The existence of his Jewish daughter and grandchildren don't somehow counter this — if anything, his willingness to defend people with such bigoted, anti-semitic views while being directly related to people the white supremacists were verbally attacking should make him look worse.
At some point, Ryan has to recognize that his party loyalty is doing more harm than good. It's serving to normalize and imbue the racism of one man into the fabric of the entire party. His leadership is necessary to be a check on Trump, but so far, he's been unwilling to rise to the occasion.
This is an opinion piece. The views expressed in this article are those of just the author.