If You Live in One of These States, Surprise! The Gov't Might Be Testing Drones Over Your Head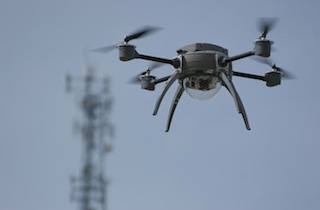 Yes, yes, we know, everyone is scared of the future of drone technology, because no one knows what they will be used for. Will they be friendly, Jeff Bezos drones who deliver our packages on time? Will they be frightening predator drones that mistake us for Pakistani terrorists and bomb us by accident? Will they be creepy NSA drones that spy on us while we change clothes?
If you live in the following states, will you let us know what the drones do to you? Because the New York Times just reported that the U.S. government has approved domestic drone testing at sites in nine different states, operated by six universities and research centers studying the possibility of using smaller, unarmed drones to capture Peeping Tom photos and pump creepy music into your bedroom for "commercial and private aircraft that come in a variety of shapes and sizes."
Alaska
Hawaii
Oregon
North Dakota
New York (upstate)
Nevada
Texas (Corpus Christi officially gets to freak out)
Virginia
New Jersey
More details on the drone testing proposals can be found on the FAA's website, but from what the Times reports, the drones sound kind of adorable, in the way that creepy garden gnomes are kind of adorable:
These include electric helicopters that a landlord could use to inspect a rooftop water tower; midget helicopters that a utility line worker starts by yanking a cord like the one on a chain saw, which can fly close to power lines; and Styrofoam planes that run on lighter fluid and can fly over fields to look for agricultural pests. Police and fire departments are among those eager to operate drones.
For some reason, this description reminds us of the little purpose-driven trains of Thomas the Tank Engine, except for the part where they can spy on you and take photos of you naked. Oh god, what if they tried to make us like the drones by putting faces on them?! Dear lord, reporting on drones makes us paranoid.
[NYT]
— —
>> Follow Tina Nguyen (@Tina_Nguyen) on Twitter
Have a tip we should know? tips@mediaite.com