'Illegitimate President': Michael Moore Slams Trump During Appearance At Trump Tower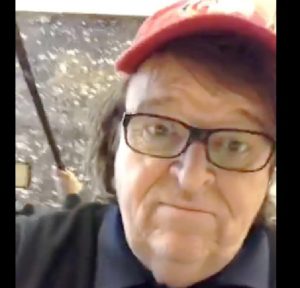 Prior to participating in a protest in Manhattan today, progressive filmmaker Michael Moore showed up at Trump Tower in an attempt to get an audience with President-elect Donald Trump.
With reporters nearby, the Michael Moore in Trumpland director was overheard calling Trump an "illegitimate president" while in the building. He also took a tour of the 58-story skyscraper, getting as far up as the fourth floor before being stopped.
According to ABC News, Moore asked Secret Service agents if he could see Trump.
"I didn't think I'd get this far," he told reporters as he headed up to the third floor.

Moore was stopped by security on the fourth floor. When he asked for a meeting with Trump, a Secret Service agent replied: "You'd have to check with his staff."
Moore could also be heard stating that Trump didn't get in through the will of the people because Hillary Clinton actually won the popular vote. According to estimates based on outstanding votes left to count in various states, Clinton should win the popular vote by roughly two million, calculating to a 1.5% advantage. However, due to razor-thin victories in Wisconsin, Pennsylvania and Florida (Michigan isn't called yet), Trump won rather comfortably in the Electoral College.
While the building had been previously open to visitors, with Trump now the incoming POTUS, it has been highly-secured. On top of that, the FAA has imposed a 'no-fly zone' over mid-Manhattan until Inauguration Day, when Trump will presumably move into the White House.
Thousands gathered near Trump Tower this afternoon to take part in another anti-Trump protest. Since Election Day, protests have taken place across the nation, with the theme being that Trump is #NotMyPresident. The size of today's New York protest seems to only be getting bigger as the day grows.
Watch video of Moore visiting Trump Tower above, via his Facebook page.
[image via screengrab]
–
Follow Justin Baragona on Twitter: @justinbaragona
Have a tip we should know? tips@mediaite.com