'I'm Sure He'd Like to Ignore the Polls': Bipartisan Brothers Take Political Banter to MSNBC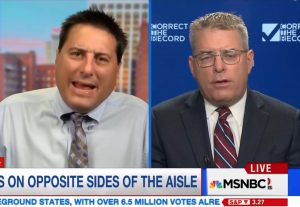 At first, the story of these two brothers sounds like it could be the set-up to a parable or sitcom of some sort. Dallas Woodhouse is the executive director of the North Carolina Republican Party. Brad Woodhouse is the president of Correct the Record, a Hillary Clinton-backing superPAC. Maybe they could teach us a valuable lesson about coexisting in spite of political differences!
Eh, or they could bicker. They seem good at bickering. If you recall, their mother once called into C-SPAN while they were arguing to remind them to be nice to one another over Christmas. Then, she appeared with them on CNN. They were on MSNBC today and while there was no phone call from Mom, they certainly did bring the bickering, so one out of two ain't bad.
At one point, Dallas told Brad he needed to have his mouth washed out with soap, so maybe their mother was there in spirit after all.
Dallas interrupted his brother as Brad tried to talk about Donald Trump's refusal to commit to accepting the results of the election. As Brad explained why that might account for Trump's recent declines in the polls, Dallas berated him with remarks about how he should have more faith in democracy. "It's a shame you don't," he said.
"The only way our system of government works is if people believe in the system," sighed Brad. "Donald Trump is lying about that system for his own ends and he's hurting our democracy and I can't believe my brother would countenance that."
"Democracy works 'cause it works!" railed Dallas as host Craig Melvin tried to reign him in.
Watch.
[image via screengrab]
Have a tip we should know? [email protected]