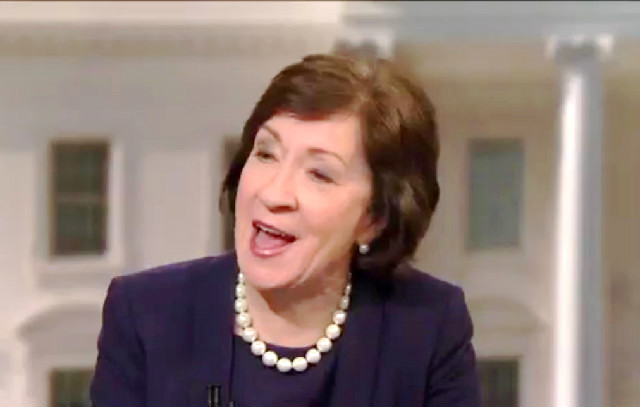 In an interview with Maine radio station WVOM today, Sen. Susan Collins (R-ME) weighed in on the recent deportation of an undocumented immigrant protected by the Deferred Action for Childhood Arrivals.
It was reported earlier this week by USA Today that 23-year-old Juan Manuel Montes had been sent back to Mexico in February despite having DACA status, making him the first documented case of a DREAMer being deported. When asked about this, Collins expressed alarm over the action.
"I'm troubled by it," the GOP lawmaker stated. "It seems to me if a child is brought here by his parents, that that child didn't really have any say in that decision to come here."
She also said that this deportation seems to "contradict" President Donald Trump's "own policy," referencing remarks made by the president earlier this year when he said he'd show "great heart" towards those protected by DACA.
The details of Montes' story have come under scrutiny since the publication of the USA Today piece. The Department of Homeland Security first disputed that Montes was active in the DACA program, stating that his status expired in 2015. They later acknowledged that he is in fact protected through 2018.
However, they've pointed out that Montes tried to sneak back into the United States from Mexico on February 19th when he was caught by Border Patrol. DHS has said that anyone covered by DACA needs to get pre-clearance before leaving the country, and that Montes crossing the border from Mexico showed that he violated that condition, thus voiding his DACA status.
Montes's attorneys have countered that their client never voluntarily left the United States when he tried entering the country again, essentially stating that he had been picked up and deported by border guards previously.
Listen to the Collins interview above, via WVOM.
[image via screengrab]
—
Follow Justin Baragona on Twitter: @justinbaragona
Have a tip we should know? tips@mediaite.com