'Impeachment Party': Twitter Joyfully Reacts to George Papadopolous Guilty Plea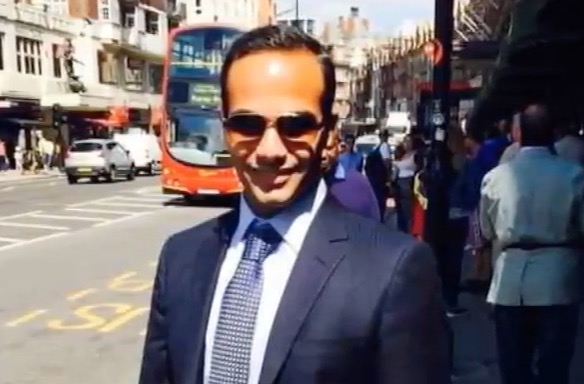 Hours after ex-Trump campaign manager Paul Manafort and staffer Rick Gates were indicted amidst Robert Mueller's Russia investigation, campaign adviser George Papadopoulos plead guilty to lying to the FBI — and Twitter is prepared for the next domino to fall.
Papadopoulos, who attempted to stage a meeting between Donald Trump and the Kremlin, claimed that his proposed meeting with Russia predated his work on the Trump campaign, but this information was proven to be false by the FBI.
Twitter users reacted to this news by pointing out the Papadopoulos story is actually a bigger one than the headliner Manafort and Gates indictments, as it appears the former aide is cooperating with authorities on the Russia investigation.
See blow for a few of the most informative and hilarious tweets on Papadopoulos:
Paul Manafort indicted
Rick Gates indicted
George Papadopolous plead guilty

I'm showing up to the impeachment party like… pic.twitter.com/u5yLGRect6

— George M Johnson (@IamGMJohnson) October 30, 2017
Possibly Trump's best defense is Papadopolous seems like such a doofus and fool in these emails. https://t.co/YhH89CfmIx

— Josh Marshall (@joshtpm) October 30, 2017
Papadopolous may well turn out to be holding the smoking gun

— Frida Ghitis (@FridaGhitis) October 30, 2017
Manafort/Gates are the bigger names. But clearly Papadopolous is today's bigger story.

— Rick Klein (@rickklein) October 30, 2017
Worth really emphasizing: Papadopolous's arrest + guilty plea were kept secret. Gotta wonder how much we don't knowhttps://t.co/GWKrZLKYLs

— Mark Berman (@markberman) October 30, 2017
In my wildest DREAMS I couldn't have hoped for the Papadopolous guilty plea today. It's going to bring them all down.

— Emma Kennedy (@EmmaKennedy) October 30, 2017
Sources: Papadopolous was in contact with campaign a "significant" amount but was talking to officials more via email than at office.

— Jim Acosta (@Acosta) October 30, 2017
Papadopolous indictment:
•Offers direct thread to Russia
•Connects with Hillary's emails
•Him pleading guilty could pressure Manafort/Gates

— Joyce Karam (@Joyce_Karam) October 30, 2017
Especially since Papdopoulos is cooperating. https://t.co/GGKIHybu3U

— Philip Bump (@pbump) October 30, 2017
Pap is arrested in July, agrees to cooperate, cops to lying on 10/5 and the statement is sealed until … the day Manafort indictment is out.

— Philip Bump (@pbump) October 30, 2017
Remarkable how much Papadopolous' plea complicated the WH response to Mueller as they were seeking to distance Trump https://t.co/uaUNTI6fMH

— Dan Merica (@danmericaCNN) October 30, 2017
We're gonna need bigger indictment bingo cards…..George Papadopolous and Rick Gates weren't even on it!

— Amy Siskind (@Amy_Siskind) October 30, 2017
Unless I'm mistaken, virtually none of the Papadopolous details are previously reported. Mueller knows a lot that the public + press do not.

— Nick Confessore (@nickconfessore) October 30, 2017
Worth noting Papadopolous once bragged about how he knew better than GOP foreign policy advisors in DC pic.twitter.com/4GqLCPjlGx

— Ben Jacobs (@Bencjacobs) October 30, 2017
Reading through Papadopolous charges, they're real bad. And I'd say White House may have some real problems on hands https://t.co/Jv8HtgR75E

— Josh Marshall (@joshtpm) October 30, 2017
"Well Papadopolous was part of the Steele dossier so it's obviously fake…"

Oh. Wait. It wasn't.

— Rick Wilson (@TheRickWilson) October 30, 2017
Papadopolous just narrator voiced Trump https://t.co/wvOUUdKqye

— Eliot Higgins (@EliotHiggins) October 30, 2017
[featured image via screengrab]
Follow Caleb Ecarma on Twitter. 
Have a tip we should know? tips@mediaite.com