In 1994 Interview Trump Admitted He Advised Men to 'Be Rougher' With Their Wives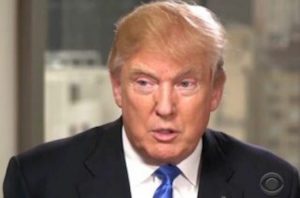 In a recently unearthed interview transcript from 1994, Donald Trump explained to Nancy Collins that he advised men to "be rougher" with their wives.
Collins conducted the interview for Primetime Live as part of Trump's campaign to promote his own comeback. Recalling the experience in The Hollywood Reporter Thursday, she writes, "No, he did not hit on me … probably because I was always surrounded by two cameramen, two sound guys and a producer. With Trump, it's always a good idea to show up with your own SWAT Team."
In the following excerpt from the interview, Trump explains his "great relationships with women."
Let's talk about women. Your feelings toward them seem conflicted, even chauvinistic, confusing since you adore and respect your mother so much.

I have great relationships with women, my mother, Ivana, Marla, my female executives are better than the men: tougher, smarter

So why in 1992 did you tell a writer for New York magazine, Marie Brenner, that 'You have to treat women like shit" — ultimately pouring a bottle of wine down her back?

I didn't say that. The woman's a liar, extremely unattractive, lots of problems because of her looks.

That statement is exactly why women think you're a chauvinist pig.

They're right — and not. People say, "How can you say such a thing?" but there's a truth in it, in a modified form. Psychologists will tell you that some women want to be treated with respect, others differently. I tell friends who treat their wives magnificently, get treated like crap in return, "Be rougher and you'll see a different relationship." Unfortunately, with people in general, you get more with vinegar than honey.
At one point in the interview, while discussing the unraveling of his first marriage with Ivana Trump, he says, "I don't want to sound like a chauvinist, but when I come home at night and dinner's not ready I go through the roof." He added: "[S]he'd be yelling into the phone with the casino; I didn't want my wife shouting like that. Ivana had a great softness that disappeared. She became an executive, not a wife."
You can read the complete interview transcript here.
—
Sam Reisman (@thericeman) is a staff editor at Mediaite.
Have a tip we should know? tips@mediaite.com