In His Own Words: Tapes Show Trump's Scared of Being a Loser
Trump 'always seems to return... to the theme of humiliation.'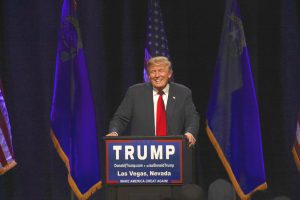 What drives Donald Trump, in his own words, is a persistent, obsessive fear of losing status and being seen in public as a loser.
In a series of interviews conducted in 2014 for a biography, Trump "always seems to return, in one form or another, to the theme of humiliation," the Times's Michael Barbaro writes.
Trump recalls instances in which acquaintances made fools of themselves, or whose star power diminished, and he promptly lost all respect for them without stopping for a moment of sympathy or reconsideration. Meanwhile, those close to him reveal that when he has been bested by others in a public setting, "his response can be volcanic."
The tapes reveal that Trump's fear of public humiliation is a continuous pattern throughout his life, although Trump himself seems unaware since he is not given to introspection:
In the interviews, which occurred in Mr. Trump's office and apartment in Trump Tower in Manhattan, he is by turns animated and bored, boastful and stubborn when prodded toward soul-searching. "No, I don't want to think about it," he said when Mr. D'Antonio asked him to contemplate the meaning of his life. "I don't like to analyze myself because I might not like what I see."
Other subjects discussed include the mogul's fixation on his own media coverage and his terror of becoming one day anonymous and forgotten. You can listen to excerpts of audio and view transcripts from the interviews here. 
—
[image: Joseph Sohm / Shutterstock.com]
Sam Reisman (@thericeman) is a staff editor at Mediaite.
Have a tip we should know? tips@mediaite.com