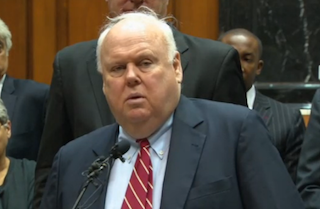 Following Indiana Governor Mike Pence's (R) call to clarify or amend the just-passed Religious Freedom Restoration Act, Indiana lawmakers announced changes Thursday that would more explicitly bar the law from licensing discrimination against gays and lesbians.
The proposed fix would clearly state that the bill does not allow a business to deny services, and could not be used as a defense in civil suits or prosecution over denial of services. At a press conference Thursday morning Lawmakers and business leaders hailed the change as the first substantial protections for gays and lesbians in Indiana law.
However, the language does not establish gays and lesbians as a protected class against discrimination, which critics allege was necessary to defend against discrimination under the law. Indiana legislators had voted down similar anti-discriminatory language to the bill before it was passed.
RELATED: 3 Reasons Arkansas Governor Didn't Follow Indiana's Path on Religion Bill
According to Pence's staff, it is unknown whether he will sign the amendment. Pence has struggled to defend the law against unanticipated backlash from the business community and LGBT groups.
The pushback against RFRAs led Arkansas Governor Asa Hutchinson (R) to send his state's version back to the legislature for changes. Both originally expanded the federal version of the law to allow businesses to claim religious exemptions in private suits, as opposed to disputes with the government; both states also lack LGBT protections, a combination that critics said made the bills Trojan Horses for anti-LGBT discrimination.
Read the legislature's synopsis of its changes, via Indiana Senate Republicans: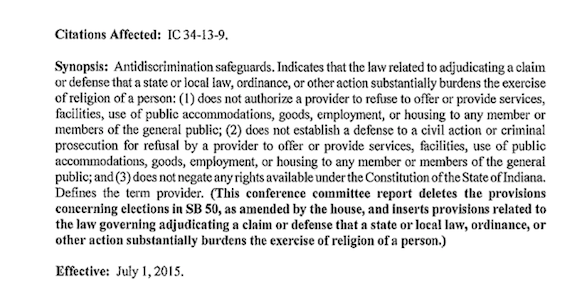 [Image via screengrab]
——
>> Follow Evan McMurry (@evanmcmurry) on Twitter
Have a tip we should know? tips@mediaite.com