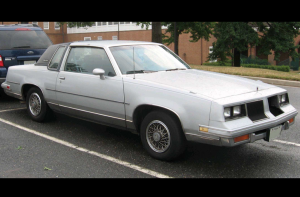 The appropriately named Mike Lawn was a long-serving White House gardener who worked under seven presidents in 29 years. He came into possession of Hillary Clinton's car by registering the winning bid at one point in his travels; for the past 16 years, the car — still caked with a fading "Clinton for Governor" sticker and Arkansas license plates — has largely sat unused.
This week however, Lawn has announced that he will be selling the car, with an estimated value of $8,700 (not factoring in the connection to the Clintons, that is). It's an 1986 Oldsmobile Cutlass with 30,000 miles, and Lawn had forever intended it to go to his daughter… who sharply rebuked the "old lady's car" when she saw its undesirable state.
Although Lawn is likely to miss his antique slice of American history, his wife Joyce Lawn may get through the grieving process more easily. "I'm ready to have it go down the road. It's time. We've had it too long."
After Jordan Spieth's Masters meltdown, Mike Lawn may be @UnderArmour's last hope https://t.co/M1LteMXmQf pic.twitter.com/AVa2A7JoPb

— Gary Gastelu (@garygastelu) April 12, 2016
According to Lawn, the Clintons family brought the car with them to the White House from the Arkansas Governor's mansion, something that Lawn had never seen a First family do before. The Clintons held an auction for the vehicle, closed off to about 90 White House residence staff. Lawn mowed down the competition, taking home the prize for himself.
"They didn't know where else to put it," Lawn told The Evening Sun. "They didn't have a home at the time. They had been living in a governor's mansion, and it's not like they had a private home. It was her personal car, so when they came to the White House, they brought it with them."
[h/t The Evening Sun]
Have a tip we should know? tips@mediaite.com