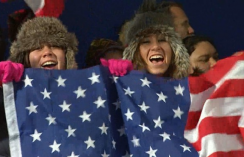 You know for an Olympics Games that very few people were supposed to be interested in watching NBC's coverage Vancouver 2010 is getting a whole lot of attention. And a whole lot of complaints! Has NBC done anything right where the Olympics are concerned? Um…nothing pops to mind but we're certainly open to suggestions.
In the meantime, add American chauvinism to a list of grievances that include time delayed broadcasting, pathetic Internet coverage, and the idiotic decision to put last night's USA vs. Canada hockey game on MSNBC instead of NBC. And now this, dare we say scathing, piece from the NYT's Alessandra Stanley:
At a time when American athletes are amassing record numbers of medals, and NBC is drawing an impressive number of viewers, sports fans couldn't ask for more fulsome, pro-American coverage — they could ask for a little less. NBC anchors, including those paid by the news division, glom onto the glamour and reflected glory of winsome champions, as per Matt Lauer's no-boundaries embrace of the skier Lindsey Vonn on "Today" after she won the downhill race. He draped a chocolate gold medal around her neck, gave her flowers ("just because we adore you") and hugged her tight ("we are so proud of you") — as if he and Meredith Vieira had spent the last 15 years rising at dawn to drive her to training.

All nations give special, fawning attention to their own teams. But NBC commentators seem so wedded to script — and prepackaged gauzy biographies — that they act as if any deviance from the party-hearty line will somehow appear unpatriotic.
And this, which I think actually gets to the heart of the problem.
NBC has been so intent on fellowship and the thrill of victory that it has neglected the thrill of an agonizing defeat, namely Russia's. NBC paid only cursory attention to Russian bitterness over Yevgeny Plushenko losing the gold medal to the American Evan Lysacek, even after the Russian Prime Minister Vladimir V. Putin weighed in with neo-cold-war disdain. The 2014 games are to be held in Sochi, a Black Sea resort, and Russia will be the host. For viewers seeking an international playing field, CNN may be a better bet.
Youch! Here's the thing. Stanley is of course right (and she's apparently not the only one complaining), NBC's coverage is very 'rah, rah America.' However, as someone who grew up on both Canadian and American coverage of international sporting events I can tell you this is not a new phenomenon: American coverage has always been like this. Something, Americans who grew up near enough to the Canadian border to get CBC or CTV coverage can also attest to.
I suspect that if the uber-patriotic tone of NBC's broadcasts is getting special notice this time around it has more to do with viewers' ability to tune into a wide variety of coverage and voices via the Internet than it does with a change in tone. The Internet has simply made everyone more internationally savvy and more sensitive to its lack…except for NBC, who may or may not be aware the Internet actually exists as it relates to the Olympics.
Have a tip we should know? tips@mediaite.com