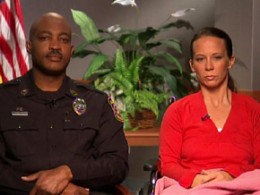 More confusion has arisen surrounding the events at Fort Hood last Thursday. Today the NYT is running an A-1 story about an eyewitness account that throws into question Sgt. Kimberly Munley's role in taking down shooter Nadil Hasan during last week's deadly rampage:
The witness, who asked not to be identified because it could damage his military career, has been interviewed by the Defense Criminal Investigative Division. He said Major Hasan wheeled on Sergeant Munley as she rounded the corner of a building and shot her, putting her on the ground. Then Major Hasan turned his back on her and started putting another magazine into his semiautomatic pistol. It was at that moment that Senior Sgt. Mark Todd, a veteran police officer, rounded another corner of the building, found Major Hasan fumbling with his weapon and shot him.
Without question there was a great deal of chaos surrounding the unprecedented events that took place at Fort Hood last Thursday afternoon. It was also reported for many hours that shooter Nadil Hasan was dead, when in fact he was at the hospital in stable condition. Also the result of the chaos? It's entirely possible. However the Army does not have a great track record with the media when it comes to accuracy.
The case of Pat Tillman has recently returned to the headlines — Tillman was killed in a friendly fire incident in Afghanistan in 2004, though the Army (and the White House) initially tried to turn death into a propoganda win by telling people he had died under enemy attack.
The current confusion also brings to mind Jessica Lynch: "When the Army initially reported Private Lynch had been captured in Iraq after a Rambo-like performance in which she emptied her weapon and was wounded in battle. It was later learned she had been badly hurt in a vehicle accident during an ambush and was being well cared for by the Iraqis."
Obviously, the full story, including Nadil Hasan's testimony, has yet to come to light, and currently the Army is refusing to provide further details and yesterday on Oprah neither Sgt. Todd nor Sgt. Munley offered up any (possibly because they are not allowed yet to discuss it in public). However, under the harsh media spotlight currently trained on Fort Hood — which will only increase should this be determined an act of terrorism — one suspects the Army won't be able to keep the details of the events to themselves for much longer.
Have a tip we should know? tips@mediaite.com