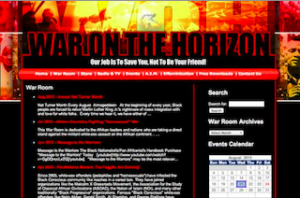 According to an unnamed Homeland Security official, Ayo Kimathi, an acquisitions officer for Immigration and Customs Enforcement has been operating a website called "War on the Horizon" that aims to prepare "black people worldwide for an unavoidable, inevitable clash with the white race." The DHS official spoke to the Associated Press anonymously as they were not permitted to discuss the case publicly.
As the AP reports, "While many of the postings on Kimathi's site are inflammatory, it was not immediately clear whether they cross the legal threshold into unprotected hate speech, and the posts may not violate DHS policies if he does not curate the website at work or espouse the ideologies in the office."
In a statement, ICE spokeswoman Gillian Christensen said the agency "does not condone any type of hateful rhetoric or advocacy of violence of any kind against anyone. Every ICE employee is held to the highest standard of professional and ethical conduct. Accusations of misconduct are investigated thoroughly and if substantiated, appropriate action is taken."
The site's full "creed" reads as follows:
Afrikan people are an international racial family who share a common: homeland (Afrika), Racial origin, culture, destiny, and a bitter enemy – the white race. We are challenged by our common destiny to eradicate the system of racism white supremacy and its benefactors in order to establish righteous Black Dominion over Planet Earth.

We are mandated by our Creator to return to our proper status as rulers of this world. It is within the full rights and responsibility of every member of the Black world family to see to it that this ultimate goal is achieved so that we may once again restore peace and prosperity to Planet Earth under the divine and just leadership of God's first people – The Black man, woman, and child of Afrika.

May our Black Brothers and Sisters see eternal progress,

May our International friends reap the benefits of refined Black leadership and,

May all of our global enemies perish by means of our Black swords.

Amen Ra!

War on the Horizon

We'll See You on the Battlefield!
[h/t & photo via The Sterling Road]
—
>> Follow Matt Wilstein (@TheMattWilstein) on Twitter
Have a tip we should know? tips@mediaite.com