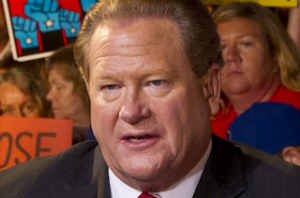 There has been much speculation this week about why MSNBC has decided to bring Ed Schultz's The Ed Show back to weekdays at 5pm, bumping an evidently distraught Chris Matthews to 7pm only. But one cable news watcher seems to have figured it out.
The Social Seer's Charles McGuinness put together a chart showing how much Twitter buzz some of MSNBC's most popular weekday and weekend hosts have generated per broadcast hour over the last two weeks. As you can see below, the #edshow hashtag was in double the amount of tweets than any of the other shows, including Schultz's fellow weekend hosts Melissa Harris-Perry (#nerdland) and Steve Kornacki (#uppers). McGuinness points out that his data is through Sunday only, so it does not include any bump Schultz may have received from MSNBC's announcement.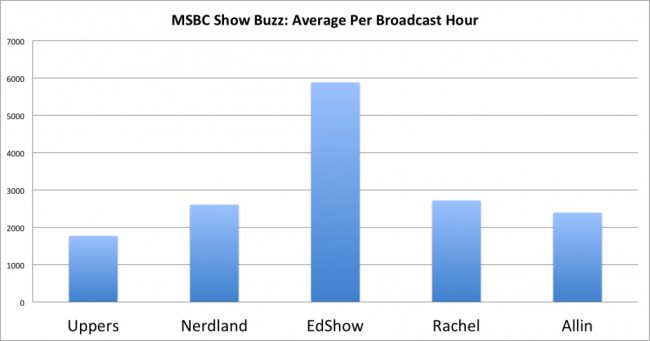 And what about Matthews, whose show Schultz is effectively replacing at 5pm? His Twitter presence is intermittent at best. Matthews sent out a tweet earlier this week about co-hosting Andrea Mitchell Reports with his wife, but before that his last tweet was on the Fourth of July. His follower count–177,868 as of this writing– is comparable to Schultz's 162,832, but Schultz uses the platform to relentlessly promote his show and generate discussions.
Schultz may be less than 10 years younger than Matthews, but he has embraced the internet in a way the older host has clearly resisted. If MSNBC is listening to Nielsen about the relationship between Twitter and ratings, as this move seems to indicate, perhaps they will start to see some real traction at 5pm.
(h/t @dorseyshaw) | [photo via Twitter]
—
>> Follow Matt Wilstein (@TheMattWilstein) on Twitter
Have a tip we should know? [email protected]