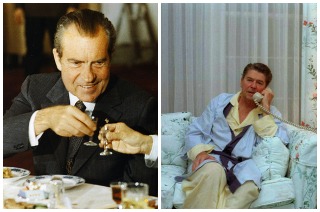 On the night of April 30, 1973, President Richard Nixon delivered an address to the nation in which he revealed the details of the ongoing scandal surrounding the break-in at the Watergate Hotel. That night, he took a phone call from California Gov. Ronald Reagan. The details of that call were not known until Wednesday when the last remaining Oval Office tapes taken during Nixon's administration were released to the public. In that phone call, Nixon sounds conspicuously up-beat and weaves from topic to topic. This has led some to speculate as to whether the president was enjoying a celebratory alcoholic beverage after the conclusion of the speech.

"I couldn't be better," Nixon insisted after warmly greeting Reagan on what should have been a somber night.
"The time is so far different," Nixon, a California native, continued. "The time is only 7 o'clock or 8 o'clock there, huh?
"Yes," Reagan replied.
"How nice of you to call," the president added.
"You can count on us," Reagan said after noting how difficult it must have been to deliver the Watergate speech. "We're still behind you out here."
"Each of us is a different religion," Nixon said, pivoting. "But, God damn it Ron, we have got to build peace in the world. And that's what I'm working on."
RELATED: CNN Films Documentary Reveals How Nixon Handled Leaks: Prosecute The Leaker, Not The Press
"How'd you ever marry such a pretty girl?" Nixon asked Regan after requesting the Golden State governor send his regards to his wife.
"I'm lucky," Reagan replied.
"Where are you now? Are you in Sacramento?" Nixon asked.
"No, Los Angeles," Regan answered.
"Good for you," the president replied. "Get out of that miserable city."
Listen to the tape below via Sound Cloud:
> >Follow Noah Rothman (@NoahCRothman) on Twitter
Have a tip we should know? tips@mediaite.com