Is VP Joe Biden's Public Love Of Amtrak Putting Him In A Compromising Position?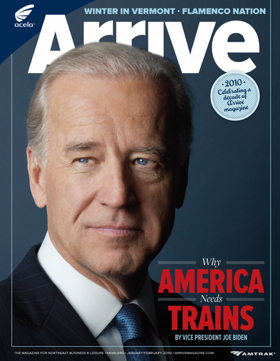 It took a few decades, but Amtrak has finally given Vice President Joe Biden the opportunity to be the company's semi-official mascot. Biden, famous for having taken Amtrak to work as senator "over 7000 times" from Delaware to Washington, has penned a piece in the January/February issue of the Amtrak-owned Arrive Magazine about his love for the travel medium and its importance in the American economy. The reasoning that Biden the private citizen has a right to his opinion is valid, especially when he is praising something his government has a stake in. But there is something improper about the Vice President of the United States writing a commercial for a government-owned company, especially in the context of the General Motors bailouts that brought many to accuse the Obama administration of corporate micromanaging.
Biden's piece is, for the most part, a personal one. He retells the old stories of how he would use Amtrak to make it in time for family birthday parties as much as for Congressional votes. He relives the past in a warm, genuine manner, and thanks the company for the memories:
Amtrak doesn't just carry us from one place to another–it makes things possible that otherwise wouldn't be. For 36 years, I was able to make most of those birthday parties, to get home to read bedtime stories, to cheer for my children at their soccer games. Simply put, Amtrak gave me–and countless other Americans–more time with my family.
Had he kept it at that, it would have been little more than an emotional customer testimonial too heartwarming to be ethically compromised. Yet Biden continued by talking policy around his story, and positioning himself against nearly every other major mode of transportation in the trade:
But my support for rail travel goes beyond the emotional connection. With delays at our airports and congestion on our roads becoming increasingly ubiquitous, volatile fuel prices, increased environmental awareness, and a need for transportation links between growing communities, rail travel is more important to America than ever before… Support for Amtrak must be strong–not because it is a cherished American institution, which it is–but because it is a powerful and indispensable way to carry us all into a leaner, cleaner, greener 21st century.
Biden is not supporting the transportation industry or trains in general – he is supporting the company Amtrak, in a magazine they publish. Granted, Amtrak is a government-owned business, but it is still competing with private travel corporations at a time in the history of the US economy when the success of small business could not be more important. Competition is so fierce that the market has become a zero-sum game; supporting Amtrak is directly detrimental to other possible forms of transportation that people could choose as an alternative. Writing this makes it all the more inappropriate.
Have a tip we should know? tips@mediaite.com