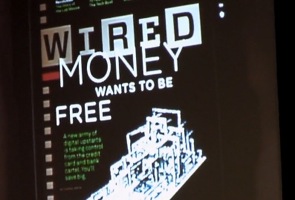 Just a few months ago, the video demonstration of Wired magazine's vision of a tablet-based iteration of their magazine made a lot of waves. In fact, one of the most talked about moments at SXSW last month was a presentation made by Wired's Scott Dadich and Adobe's Jeremy Clark. But in light of the recent battles between Apple and Adobe over Flash and the iPad platform, did Wired make a strategic error in putting so much into their Adobe partnership? Yes, it appears so.
Much has been made of the recent battles between Apple and Adobe, but to recap:
Apple recently announced restrictive new guidelines for the software platform that will run on their iPad. Most notably, the new tablet-based computing device does not allow Adobe's Flash, claiming that it drains a devices battery life, slows down mobile access, and most importantly, is far too buggy a plug-in which causes Apple computers to crash far too often. Adobe responded by creating a work-around, which Apple has since forbade, essentially putting Adobe out in the cold from what seems to be a potentially lucrative new media platform.
How does this relate back to Wired? Well, the SF-based magazine was aggressive in pursuing a tablet based version of their title by partnering with Bay Area neighbor Adobe, which at the time, seemed to be a wise decision. In fact, we've lauded the efforts of both Editor-in-chief Chris Anderson and Dadich as providing a vision in an industry that has been sorely lacking one.
However, now it appears that the Wired's eggs are placed in the Adobe basket, a basket that will likely work on many other tablet devices, just not the one that is breaking sales records and defining the next wave of media consumption. Its too early to call it a blunder, but it does call to question the strategic leadership at Wired, a magazine that is perfectly suited to both report on, and exist on, the new device.
In a piece entitled Apple's New Guidelines Won't Stop Wired Magazine for Ad Age, Nat Ives reports:
Condé Nast 's Wired magazine app will indeed work on the iPad despite the restrictive new guidelines Apple issued this month, Condé Nast said this evening. That's depending on Apple's actual approval, of course, but Conde is at least confident it can meet the new guidelines that had worried many observers.

Wired has been working with Adobe, which provides many magazines' publishing software, to develop interactive editions to run on tablet computers including the iPad. Its goal was to integrate publishing the print edition with publishing the tablet edition as closely as possible, minimizing the need for additional steps or systems to produce a tablet edition.
Without any specifics provided, and in the context of this bleeding-edge era of tablets, software, and vaporware we now find ourselves, its hard to put any real stock in a comment claiming that they expect Wired to work on the iPad, depending on Apple's actual approval. When reached for comment about how the battle between Apple and Adobe would effect Condé Nast titles (especially Wired) a spokesperson at Conde Nast declined comment.
Sources close to the situation claim that the research and development phase for Condé's tablet version has two product tracks, one using technology developed in-house by Condé Nast Digital specifically for iPhones and iPads, and the other using technology developed with Adobe for multiple devices and operating systems. This is a smart approach, especially given the heightened rhetoric between Apple and Adobe.
It's theoretically possible that Apple will approve their next app — Condé is not asking for special treatment, they've just said that they'll work within Apple's restrictions. But right now, it's honestly hard to imagine an Adobe-powered version of Wired (or any title for that matter) showing up on an iPad anytime soon.
Of course, none of this means that Condé Nast wasn't smart to partner with Adobe, its just that no one, not even Wired, predicted Apple's incredibly restrictive guidelines coming. It also means that their Adobe partnership does not really mean much of anything at this point, essentially putting at least this development track back to square one.
Wired rocks audience at SXSW with iPad demo from Mangrove on Vimeo.


Following is the original demo of the Wired tablet version released in February.
Have a tip we should know? [email protected]