It's Mitt Romney v. Ron Paul In Virginia As Other Candidates Fail To Qualify For Primary Ballot
It's Mitt Romney v. Ron Paul In VA As Other Candidates Fail To Qualify For Primary Ballot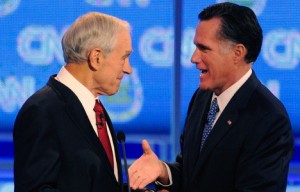 When you're running to be the next President of the United States, it's generally a good idea to make sure people are able to vote for you. But in a surprise twist in this already twisted-up campaign, both Newt Gingrich and Rick Perry will not be on the ballot when Virginia Republican voters go to cast their vote for their party's nominee, meaning the primary in that state will boil down to a contest between Mitt Romney and Ron Paul.
RELATED: Gary Johnson Darts Across America To File For New Hampshire Primary: 'We Just Screwed Up'
Several months ago, Gingrich did not file for the Missouri primary, but made a deliberate decision to do so based on his campaign strategy. This time around, Gingrich actively pursued getting on the ballot in Virginia, claiming to have reached the 10,000 signature threshold to qualify. Perry's campaign claimed they had reached it as well, but after state party officials went through all the signatures to validate them, neither candidate ended up qualifying.
"After verification, RPV has determined that Newt Gingrich did not submit required 10k signatures and has not qualified for the VA primary," the party announced on Twitter.

The rejection is a significant setback for the Gingrich campaign since he is leading the polls in Virginia among likely Republican voters and is seen as a strong contender for the nomination.
The state certified that both Romney and Paul had enough votes to get on the ballot, but as for the rest of the candidates, Michele Bachmann, Jon Huntsman, and Rick Santorum failed to qualify as well, not garnering enough signatures to appear on the ballot.
RELATED: Fox News Panel Blasts Newt Gingrich For Not Making It On Virginia's Primary Ballot
However, this doesn't mean the other candidates won't try hard to get enough votes in the state. Already, Gingrich's campaign has criticized Virginia for its "failed system," and is planning an aggressive write-in campaign for their candidate.
Which leaves Romney and Paul, two candidates whom different factions of the Republican party have shown a deep dissatisfaction for. The lack of other frontrunner candidates means Romney might have a stronger showing in the state, but Paul's recent surge in the polls might end up surprising analysts who have already ruled out his prospects of winning the race.
Watch the report from Fox News below:
Fox News Panel Blasts Newt Gingrich For Not Making It On Virginia's Primary Ballot:
Have a tip we should know? tips@mediaite.com
Josh Feldman - Senior Editor