It's Official, New York Observer Now Propaganda Arm of President-Elect Trump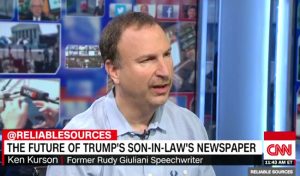 During yesterday's broadcast of CNN's Reliable Sources, New York Observer editor-in-chief Ken Kurson spoke with host Brian Stelter about a number of subjects, such as owner Jared Kushner's (Donald Trump's son-in-law) relationship to the publication's editorial staff and the paper's decision to go to an all-digital format.
However, it was his discussion over the media coverage of Trump and the election that really perked up ears. He called the coverage a "disgrace" and said unequivocally that many journalists should be fired for getting the election so wrong. While Kurson admitted that most people didn't think Trump could win, he said the media as a whole ignored how he could win, pointing to Brexit as a "test run."
"I'm quite frankly shocked that there haven't been resignations and firings," Kurson told Stelter regarding the media's coverage of Trump. When asked what they were wrong about, Kurson said they "were wrong about why it was happening, inexplicably, after Brexit." He also labeled the outrage over Trump's Hamilton tweets being "a good example" of "coastal cultural elites" not understanding Trump.
There is some truth to what Kurson said, to be honest. And it appears that many in the media are reflecting on their coverage and what they should improve on. (At the same time, there is also concern that fake and hyperpartisan news helped sway many voters and erode trust in legitimate news sources.)
But, really, to hear a former speechwriter for senior Trump adviser Rudy Giuliani sit there and lecture the media over how it is doing its job while he works for a Trump family member who is trying to find a way to get around nepotism rules to be on the President-elect's staff while owning a media outlet is rich. It is really, really, really rich.
Let's just take a step back and look with clear eyes at what Kurson is saying here. One, he's trying to convince us all that Kushner has no say — none at all — over what the Observer prints or its editorial direction. At the same time, he also says that he doesn't bemoan Kushner wanting to perhaps push his opinion to the editors, contradicting his statements about Kushner not placing his "finger on the scale."
Meanwhile, he completely brushes aside the question of whether or not Kushner should place his ownership interest of the Observer in a blind trust should he officially join the Trump administration. And, of course, he sits there and commends his paper's coverage of the election and Trump while slamming the efforts of other papers and networks, calling for mass firings and resignations in the wake of the election.
Sure, this might seem hyperbole, but this is legitimately scary stuff. Kurson and Kushner appear to be setting up the Observer as a propaganda arm of the Trump administration, much like we are pretty certain Breitbart will be. (I mean, when Steve Bannon is Trump's chief strategist, it is pretty apparent what Breitbart's role is going forward.)
By painting the rest of the media as disgraceful, inept and biased, Kurson is paving the way for his publication to be seen as one of the only trustworthy ones. And, with a direct line to the White House, along with Breitbart, we are seeing the seeds of a state-run media, at least in the digital arena. (Now just imagine if anyone actually read the Observer!)
Will we see it soon become the place where Trump and his administration provide exclusive interviews and breaking news to, leading it to become the primary source for much of the rest of the media?
Be wary of where this is heading. Be very, very, very concerned.
Watch Kurson's interview above, via CNN.
[image via screengrab]
–
Follow Justin Baragona on Twitter: @justinbaragona
This is an opinion piece. The views expressed in this article are those of just the author.