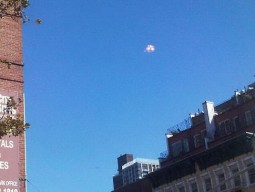 At this point pretty much the only thing missing from this election season is an alien invasion. So, it's perhaps fitting that yesterday afternoon a bunch of New Yorkers thought they were witnessing one. No really. From the New York Daily News:
A mysterious shiny object floating high over Manhattan's West Side set off a flurry of reports and wild speculation Wednesday that a UFO was flying over the city.

Police and the FAA said they began getting flooded with calls starting at 1:30 p.m. from people reporting a silvery object hovering high over Chelsea. Law enforcement sources said they believed the object was likely some sort of balloon, but as of late Wednesday they had not confirmed exactly what it is.
But wait, the plot thickens!
Not long after the first sightings, messages began appearing on Twitter linking to a month-old press release announcing the publication of a book by a retired NORAD officer predicting that UFOs would buzz the earth's major cities on Oct. 13.
The FAA said they ran some scans "but there is nothing in the area." Who know! Maybe the aliens are immune to our radar. More likely is that it was just balloons. That said, if aliens did land on the Upper West Side of Manhattan tomorrow would you really be all that surprised? Probably a good time to brush up on Stephen Hawking's alien advice. Video of the 'invasion' below…you can decide for yourself.
[Pic via] Update: The NYDN appears to have pulled their pic from this Twitter account, and the user has since removed it. A commenter points out it was likely photoshopped. Ah well, it was a nice reprieve from witches and Marxists while it lasted.
Update again: Sigh. Yeah, balloons.
Have a tip we should know? tips@mediaite.com