Can Binding Arbitration Settle The Cablevision/ Fox Dispute (And End These Fights Forever?)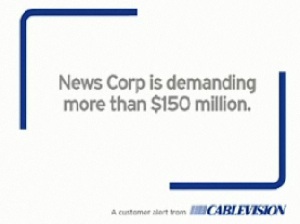 With the fight between Fox and Cablevision quickly approaching tomorrow night's midnight deadline, is binding arbitration the answer to the growing annoyance of feuds between TV networks and cable companies? Congressmen Steve Israel and Peter King of New York think so, and they might be the right.
First a bit of background. Brian Stelter wrote on the NY Times MediaDecoder blog yesterday:
Cablevision customers in the New York metropolitan area may lose access to Fox programming this weekend if the cable company cannot come to new terms with News Corporation, the owner of Fox.

The two media giants are locked in contentious negotiations over something called retransmission consent, which gives Cablevision the right to carry local Fox stations like WNYW in New York City.

Cablevision's current contract expires at the end of the day on Friday, so the programming will stop then unless the parties agree to new terms or agree to extend negotiations.

The two companies are also battling over the carriage of three of the News Corporation's smaller cable channels, the Fox Business Network, Fox Deportes, and Nat Geo Wild. Bigger channels like Fox News Channel are not directly affected by the negotiations.
As Time Warner Cable noted in a blog post yesterday, simply switching between TV providers during these fights is no solution because your cable or satellite company could be the next to lose your favorite channel. Some Fox cable channels are currently off DISH's satellites, as are the high-definition signals for a bunch of Disney's cable channels. The Fuse music network and MSG sports networks are also off DISH as companies fight over fees. Fox could be off Cablevision by tomorrow night, and later this month could be off DISH.
While profit-making companies have the right to fight for the best deals they can get, TV viewers are unfairly caught in the middle. Binding arbitration seems to be the fairest way to make sure people don't lose their favorite shows. Perhaps it's finally time for the FCC to do something.
Have a tip we should know? tips@mediaite.com