Ivanka's Pleas to Dump Roy Moore Reportedly Pushed Trump in 'Opposite Direction'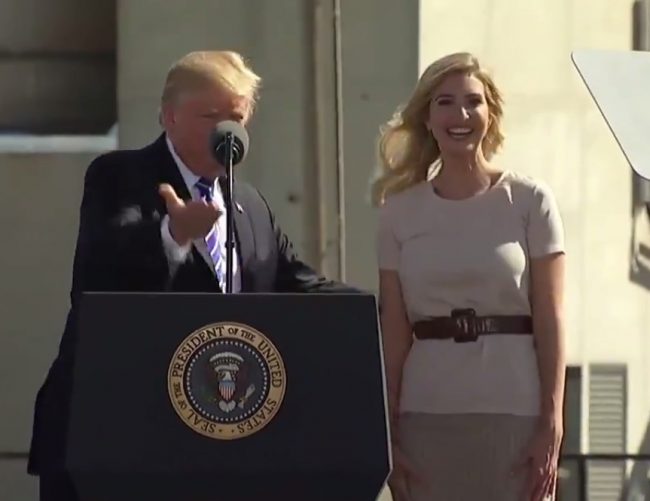 It's been a fairly common headline over the first year of President Donald Trump's administration: Trump ignores daughter Ivanka, does (largely unpopular) thing.
But Trump not just ignoring his daughter, but actually getting pushed in the opposite direction because of her pleas?
That's what happened with Republican Alabama Senate candidate Roy Moore, according to a new report. A Politico story published Monday morning authored by Eliana Johnson and Alex Isenstadt suggests that the President resented the "pile-on" of Moore from Ivanka and other advisors, and decided to back the former Alabama Supreme Court Justice as a result.
From Johnson and Isenstadt's report:
White House aides advised the president against getting involved in the contest, and his endorsement is a testament to the futility of trying to guide a boss guided by instinct who relishes taunting the political establishment he now runs. That includes not just [Senate Majority Leader Mitch] McConnell [R-KY] but members of his own staff and even his daughter Ivanka, whose harsh words for Moore worked only to push the president in the opposite direction.
Progressives and moderates had undoubtedly hoped that Ivanka Trump would serve as a sobering voice in the West Wing — someone the President would listen to who would talk him out of his most conservative or radical impulses. But it has become clear, at this point, that she's not making much of an impact. If her father is now openly defying her, one wonders how much longer she'll stay.
[image via screengrab]
——
Follow Joe DePaolo (@joe_depaolo) on Twitter
Have a tip we should know? tips@mediaite.com
Joe DePaolo - Senior Editor