J. Edgar Hoover Foundation Upset Over Upcoming Biopic's Gay And Crossdressing Questions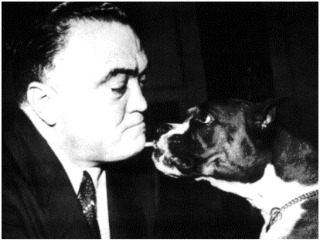 As part of the the research for their upcoming biopic on J. Edgar Hoover, director Clint Eastwood and actor Leonardo DiCaprio organized meetings with officials at FBI headquarters. The two had one line of questioning in particular that has proven to be a sore subject, time and time again.
ABC News reports that the duo's attempts to glean information concerning rumors of Hoover's homosexual relationship with trusted aide Clyde Tolson and his propensity for crossdressing have been met with some disdain from former agents as well as the J. Edgar Hoover Foundation:
"There is no basis in fact for such a portrayal of Mr. Hoover," William Branon, chairman of The J. Edgar Hoover Foundation, wrote to Eastwood this year. "It would be a grave injustice and monumental distortion to proceed with such a depiction based on a completely unfounded and spurious assertion."

The Society of Former Special Agents of the FBI fired off a similar missive, saying a "rumored kissing scene," reported in early media accounts involving the actors portraying Hoover and Tolson, "caused us to reassess our tacit approval of your film."
Seeing as a Google search for "J. Edgar Hoover" brings up "J. Edgar Hoover cross dressing" as its fourth search suggestion, it seems that those rumors, whether based on truth or not, aren't going to fade away any time soon. It's unclear at this point whether the movie, J. Edgar will address rumors concerning Hoover's homosexuality and, if so, to what extent, but Eastwood has responded to the Foundation's concern by noting that he has given no "credence to cross-dressing allegations" and that the film has no intention of portraying "an open homosexual relationship" between Hoover and Tolson. Key word here, we suppose, being "open."
In any case… does this pique your interest in the movie?
h/t ABCNews.com
Have a tip we should know? tips@mediaite.com