Jabroni Goombah Christie Stays on the Campaign Trail While Home State Faces Blizzard (UPDATED)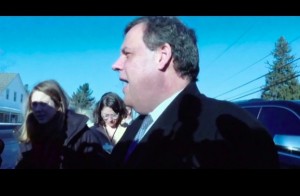 I'm born and raised in Jersey, and the Italian traditions run through my blood stream thicker than the olive oil on top of spaghetti aglio e olio. I've been proud in recent years to see the attitude with which my home state's Governor has tackled the national stage. Yeah, he may be abrasive, shrewd, curt, but that's kind of the status quo in the Garden State, so I would expect nothing less.
But in yet another foolish move on the precipice of a potentially damaging snow storm this weekend, my Presidential paesano Chris Christie is opting to stay on the campaign trail instead of traveling back to New Jersey.
Up in Chester, New Hampshire yesterday (the only state where Christie remotely has a chance to do some damage, and even there, he's polling at 8.4%) the Governor told reporters, "If I needed to go back [to New Jersey] I would, but at this point it is too speculative to know."
Yeah guys, it's just too speculative to know whether or not the Governor of a state has the responsibility to his constituents to be a visible force of aid in what may be — but hopefully not — a time of need for many. And this isn't the first time; in 2011, Christie famously skipped town ahead of a blizzard to hang out in Disney World.
But now, things are different, because he claims that "everybody's got their assignments" so that he can continue to focus on what the people in New Jersey put him in office to do: parade around diners in New Hampshire.
This is the full statement Christie gave to reporters:
"We're preparing for the worst, like we always do, and you can always scale back. So, like I said, we've been through this dance a bunch of times before, from my perspective we're doing the things we need to do, in terms of getting the roadways ready, dealing with potential coastal flooding and all the rest of that. So everyone on the call last night had their assignments, I gave everybody their assignments. I'll be back on the phone at 10 p.m. tonight. They know if they need me before then, they just call me and get me. We've got through this rodeo a bunch of times before, we know how to do it."
Hey, I for one hope that this whole post is in vein, that Jonas bypasses Jersey completely and nothing but rainbows and sunshine bless the shorelines. Truly, I hope that happens, because the Jersey shore has been walloped enough: families were devastated following Sandy in 2012, parts of the shore communities were irreparably destroyed, and the state suffered $30 billion in damages. According to the National Weather Service, the Jersey shore, specifically the south shore of Raritan Bay, has been designated as an "area of particular concern" for this weekend; Raritan Bay was left devastated in Sandy's aftermath.
But in Chris Christie world, "speculation" places second to politics.
Maybe if Christie stays tucked away safely in New Hampshire, he hopes to avoid the REAL disaster: another partisan gaffe in the form of a hug with a Democratic President in a time of need, weeks ahead of Super Tuesday.
Thanks Governor, enjoy your time in Hew Hampshire.
Update — 1:08 p.m. ET: Chris Christie is apparently a huge fan of Mediaite, read my column, and now has had a change of heart. The jabroni goombah himself took to Twitter this afternoon to announce his intentions of returning to Jersey to deal with the snow directly:
I'm sorry, NH but I gotta go home – we got snow coming. #Jonas

— Chris Christie (@ChrisChristie) January 22, 2016
I want to make sure the people of my state feel safe and secure. #Jonas

— Chris Christie (@ChrisChristie) January 22, 2016
But I will be back, because I am able to do both things. The fact is – you are never not the governor. #Jonas

— Chris Christie (@ChrisChristie) January 22, 2016
I will be going home this afternoon, but Mary Pat is staying. #Jonas

— Chris Christie (@ChrisChristie) January 22, 2016
Yo fool, welcome back to Jersey, Gov!
This is an opinion piece. The views expressed in this article are those of just the author.