Jake Tapper Calls Out Slate For 'Ridiculous and False' Story About Kellyanne Conway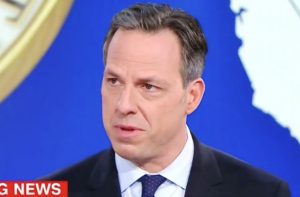 CNN host Jake Tapper called out Slate for a misleading story about Donald Trump campaign manager Kellyanne Conway, saying his sources told him they were taking her way remarks at a Politico event way out of context.
Slate published a piece Wednesday with the headline "Kellyanne Conway Suggests That Women With Kids Shouldn't Take Jobs in the White House."
Kellyanne Conway told Politico that mothers should not take White House jobs: https://t.co/nFSbsqkD6Z pic.twitter.com/JoTM7NneGq

— Slate (@Slate) December 8, 2016
But Tapper called BS, citing women he knew who were in the room.
2 women I know who attended this event say this headline/piece are ridiculous and false and say it totally twists what Conway said. fwiw https://t.co/XwszKdabRG

— Jake Tapper (@jaketapper) December 8, 2016
Reading the actual story, Tapper and his sources appears to have a point. Here's the quote from Conway that inspired the story, from a Politico story on the event:
During her earlier conversation, Conway said she intends to remain connected to Trump once he takes office but implied that it would be nearly impossible for her to take on an official White House role and be a mother to her four children, all of which are younger than 12, at the same time

"I do politely mention to them the question isn't would you take the job, the male sitting across from me who's going to take a big job in the White House. The question is would you want your wife to," Conway said, describing conversations she's had with male colleagues. "Would you want the mother of your children to? You really see their entire visage change. It's like, oh, no, they wouldn't want their wife to take that job."
In context, it appears Conway was saying that the men she spoke to said they wouldn't want their wives taking a White House job, and that she might not take a job because of her children. She certainly never implied that all women with children should not have role in the White House, as Slate's headline states.
[Image via screengrab]
—
>>Follow Alex Griswold (@HashtagGriswold) on Twitter
Have a tip we should know? tips@mediaite.com