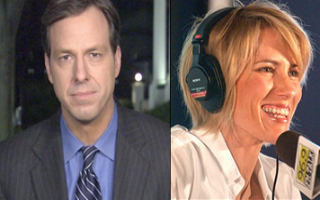 In an interview on Tuesday with conservative radio host Laura Ingraham, ABC News' White House correspondent Jake Tapper addressed many of the concerns that Republicans have with the media. Tapper said that he was concerned that key issues, like the economy, were being ignored in favor of political issues like Mitt Romney's tax returns. Tapper said that he hopes the media does not unfairly cover this election and favor one candidate over another, as he says the institution did in 2008.

Ingraham asked Tapper if he was happy with the substance of political media coverage thus far. Tapper replied that he was not, saying that the state of the nation's economy and the high unemployment rate are voters' paramount concerns and that he would like to see "more action taken and more emphasis given to this issue."
Ingraham also asked Tapper to elaborate on a question he asked President Barack Obama on Monday in about the security satiation in Afghanistan. Tapper said that he was concerned by the rise of attacks on U.S. troops by Afghan security forces and said, given hat he is currently writing a book on the Afghan conflict, that he found the standards lower for incoming Afghan troops.
Tapper told Ingraham that he wondered if the U.S., "in an effort to beef up the troop levels and hasten the exit of the United States has lowered the standard for these Afghan troops," and is now accepting and funding soldiers who are openly hostile to the U.S.
Ingraham then played a clip of reporter and author Mark Halperin saying that he believes the political press is often guilty of talking about what the Obama campaign wants them to talk about, specifically in regard to Mitt Romney's tax returns, as opposed to other, more pressing issues. Tapper said that he could "understand where he is coming from," though he said that the Romney/Ryan camp was guilty of spinning reporters as well and he thinks Romney's tax returns are not entirely irrelevant.
"I have said before… [that I] thought the media helped tip the scales. I didn't think the coverage in 2008 was especially fair to either Hilary Clinton or John McCain," said Tapper. "Sometimes I saw with story selection, magazine covers, photos picked, [the] campaign narrative, that it wasn't always the fairest coverage."
Listen to the interview below via the Laura Ingraham Show:
> >Follow Noah Rothman (@Noah_C_Rothman) on Twitter
Have a tip we should know? tips@mediaite.com