CNN Reports Republican Party Platform Will Include No Exception For Rape, 'Legitimate' Or Otherwise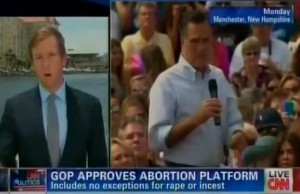 The white-hot media glare on Rep. Todd Akin's "legitimate rape" comments had already thrown the Republican presidential ticket way off-message, but according to CNN, the platform that the party has adopted, along with several Mitt Romney advisers, will guarantee that the issue of rape and reproductive rights will dominate coverage of next week's Republican National Convention. CNN's Peter Hanby has confirmed that the platform will include an anti-abortion plank, with no exceptions for rape or incest.
CNN was already reporting on a draft version of the platform that contained no exception for rape or incest, but Hanby now reports that the platform committee, chaired by key Romney supporter Gov. Bob McDonnell, will adopt the newly-controversial plank. "Romney came out and said that under a Romney presidential administration they would allow exceptions for rape," Hanby told Suzanne Malveaux, "However, the party that he is going to officially assume control of next week in Tampa is saying that there is no official exemptions. They're not going to put it in the platform."
He went on to tell Malveaux that "The Romney campaign was in the room for this. There were several top Romney advisers in the back of the room. Romney ally Virginia Governor Bob McDonnell chaired the committee. Romney advisers like Jim Bopp and Jim Talent were on the committee."
The Obama campaign is already all over the news, dubbing the abortion plank "The Akin Amendment" in memos to reporters.
On Sunday, Akin told an interviewer that pregnancy resulting from rape is "really rare" because "If it's a legitimate rape, the female body has ways to try to shut that whole thing down."
In a series of responses, Mitt Romney seemed to indicate that his administration (despite a record to the contrary) would allow exceptions to abortion laws in cases of rape and incest. However, if you listen carefully, that's not actually what he and his campaign said. His campaign's first statement on the matter said, "Governor Romney and Congressman Ryan disagree with Mr. Akin's statement, and a Romney-Ryan administration would not oppose abortion in instances of rape."
That's not exactly the same thing as allowing exceptions to anti-abortion measures, and it's not consistent with the Romney/Ryan record on reproductive rights. In interviews with The National Review and WMUR, Romney avoided the issue of rape exceptions completely. On his campaign website, Romney also makes no mention of exceptions for rape or incest, but does say "Mitt believes that life begins at conception and wishes that the laws of our nation reflected that view. But while the nation remains so divided, he believes that the right next step is for the Supreme Court to overturn Roe v. Wade – a case of blatant judicial activism that took a decision that should be left to the people and placed it in the hands of unelected judges."
That carefully-composed statement – "a Romney-Ryan administration would not oppose abortion in instances of rape" – contains an ocean of wiggle room, and Mitt Romney has shown nothing to suggest he would hold back the tide his party's historic hostility toward reproductive rights. Now, thanks to Todd Akin, everybody will know it.
Here's the clip, from CNN:
Follow Tommy Christopher (@TommyXtopher) on Twitter.
Have a tip we should know? tips@mediaite.com