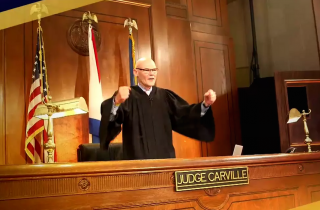 America's favorite political pundit James Carville apparently filmed a television pilot for a Judge Judy-like courtroom show called… yep… "Carville's Court." It did not, however, advance beyond the pilot phase.
As first reported by Politico Friday afternoon, the episode features Carville, an attorney, mediating disputes in a New Orleans courtroom.
"I'm bringing that same no-nonsense common sense to every day Americans, people from all over America who come to New Orleans, my home turf," Carville said in the pilot's opening sizzle. "This courtroom is unlike anything you've ever seen on TV, and so am I. So get ready for some plain spoken justice and a whole lot of Cajun common sense."
But while Carville acknowledged to Politico that he did indeed film the pilot, he added, "It's not a go right now."
"We shot a pilot for something we thought we might want to try, there's nothing more complicated to it," Carville said. "It was decided not to bring it to TV."
The folks at Politico's On Media blog learned of the pilot's existence after reviewing the emails that WikiLeaks released on Thursday from the Sony hack. Some details:
Sony executives appear to have met with Carville over the summer and taped pilots in October. Rachel Mizuno, senior vice president of marketing for Sony Pictures Television, wrote in an email that "James was great" and that what makes "him unique is that his court is not just 'the court of law' but also 'the court of life,'" a reference to the line Carville says ahead of each ruling. "Every case involved a legal ruling but also a piece of advice about life," Mizuno said.
One executive reportedly said Carville was "was so good and natural" on camera and "feels this is his calling."
Click below to watch the trailer, via Vimeo: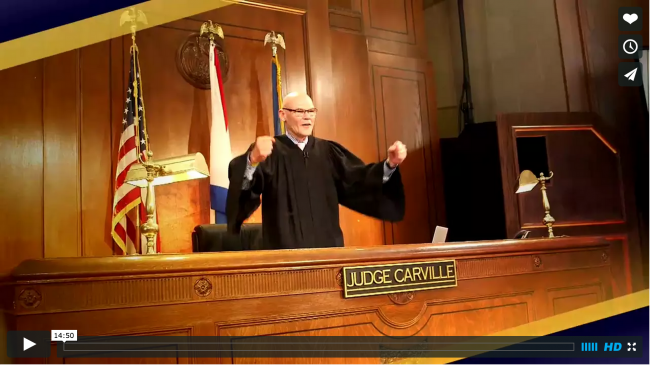 So how would this show have done on TV? Who knows. But a quick polling of Mediaite staff finds that most of us are just reminded of this classic Arrested Development fake show:
[Image via screengrab]
— —
>>Follow Andrew Desiderio (@forza_desiderio) on Twitter
Have a tip we should know? tips@mediaite.com