James Dobson Finds A Way To Connect CT Shooting To Abortion And Gay Marriage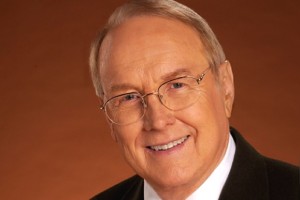 This morning Christian radio host James Dobson cut through all the gun control and mental health talk to get to what truly lies at the heart of last week's tragic shooting at a Connecticut elementary school: abortion and gay marriage. Dobson used the shooting to declare that the United States is in "complete disarray," connecting it to abortion and the perceived threat to the institution of marriage.
Dobson said that the shooting happened because God is punishing the United States because so many people have turned their backs on him.
"I mean millions of people have decided that God doesn't exist, or he's irrelevant to me and we have killed fifty-four million babies and the institution of marriage is right on the verge of a complete redefinition. Believe me, that is going to have consequences too.

And a lot of these things are happening around us, and somebody is going to get mad at me for saying what I am about to say right now, but I am going to give you my honest opinion: I think we have turned our back on the Scripture and on God Almighty and I think he has allowed judgment to fall upon us. I think that's what's going on.
Dobson's comments come on the heels of similar remarks by Fox News host Mike Huckabee suggesting that the removal of God from public schools may have led to tragedies like these.
Listen to the audio below:
h/t RightWingWatch
—–
Follow Josh Feldman on Twitter: @feldmaniac
Have a tip we should know? tips@mediaite.com
Josh Feldman - Senior Editor