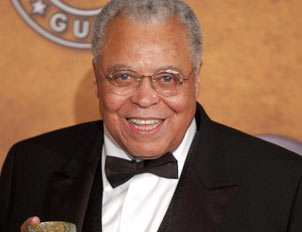 Actor James Earl Jones — perhaps best known as the melodious, mellifluous voice of Darth Vader (or Mufasa, depending on your generation and general geekitude) — was interviewed on Tavis Smiley and Dr. Cornel West's syndicated Smiley & West radio show, where he was asked whether he is a "political person."
Jones — who happened to be "voice of CNN," quite literally — shared that he consumes as much political news as he can, particularly from MSNBC. "Can't get enough of it," he said. "I even venture into the right-wing talk shows sometimes."
"Sometimes you turn to Fox?" his hosts asked.
"Nothing wrong with that," said West. "You want to find out why people are wrong as well as right."
"Knowledge is all over the place," said Jones, before offering his thought on the Tea Party… and racism:
I think I figured out the Tea Party. I think I… I do understand racism, because I was taught to be one, by my grandmother. My grandmother was part Cherokee, Choctaw Indian, part black. She hated everybody. She taught all of her children and grandchildren to be racist, to hate white people, and to distrust black people.
This upbringing, he said, ultimately taught him how to think and observe for himself. In fact, interpreting and ultimately overcoming and denouncing his grandmother's hatred and distrust for other races is such a defining part of Earl's experience and worldview that it is prominently noted in his Wikipedia entry and brings forth dozens of articles on the matter.
Now, as to whether the Tea Party is a movement either motivated by hatred and racism, or one in which racism is intrinsically and inherently linked, well. As Jones himself quite beautifully put it, "knowledge is all over the place."
Have a listen to Jones' thought on the media and racism, via Smiley & West:
h/t Radio Equalizer
Have a tip we should know? tips@mediaite.com