Jay-Z's Company Sells Occupy Wall Street Shirts, Chooses Not To Give Any Money To, Y'Know, Occupy Wall Street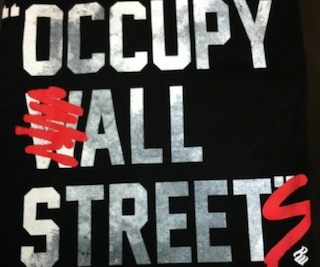 Right now there is a slightly heated debate going on in the Abrams Media office as we've found a story that somehow intersects the purviews of three of our different sites; Jay-Z's company, Rocawear, is now selling a t-shirt that says "Occupy Wall Street" with graffiti style lettering modifying the message to read "Occupy All Streets." A mini scandal has brewed over the shirt as it's become clear that Rocawear, currently, has no plans to give any of the procedes to the occupiers themselves.
Is this a brave show of support or a cynical commodification of a genuine cultural movement? Here's a Mediaite take.
At first, this writer didn't see much of a problem. The changing of the text is important to my initial feelings. By making it say "Occupy All Streets," the shirt could be seen as a parody of the OWS slogan and, as such, owed as much monetary compensation to the occupiers as Mad Magazine owed Shepard Fairey. However, I changed my mind when I read a statement from Rocawear to Business Insider:
"The 'Occupy All Streets' T shirt was created in support of the 'Occupy Wall Street' movement. Rocawear strongly encourages all forms of constructive expression, whether it be artistic, political or social. 'Occupy All Streets' is our way of reminding people that there is change to be made everywhere, not just on Wall Street. At this time we have not made an official commitment to monetarily support the movement."
If the shirt is just designed to be cool and "of the moment" or something, then, fine. Do whatever you want. However, if they actually intend it as support, then they should be supporting in a more tangible way.
One of the Jay-Z defenders in our office pointed out that, by symbolically using his voice through the shirt, the monumentally influential rapper and entrepreneur is doing more to help the cause than nearly anyone can. That may be true. However, why should he profit off his support?
An analogy I used here in the office was of the canned food drive we have for Thanksgiving. If I were to walk in one day and say "Hey, that canned food drive is great!" or, more aptly (and cryptically), "Hey, all food drive!," that would be all well and good. But, if I were to say that while not putting any cans in myself as well as taking some of the cans that come in back to my house, people would think I was being, well, kind of d*ckish.
And I think that's the point. What Jay-Z's doing isn't wrong, per se, it's just kind of tasteless and jerky seeming. If he wanted to lend his support, he could have shown up at the protests like his friend Kanye West. Or he could have made the shirts say something clearer like "Jay-Z, a rich man, should pay more taxes!" Or he could just give the movement some of the darn profits.
Honestly, I think this whole controversy will be over in hours. The story will become enough of a PR nightmare that, by the end of the weekend at the latest, Rocawear will have released a face-saving statement reversing their earlier position. Still, this is a story that sparks an interesting debate about what happens when you find the intersection of politics and cool.
Check out Styleite's take here and Mogulite's here.
Update: Well, that didn't take long– the shirts are being taken off the market. The full report from Styleite here.
Have a tip we should know? tips@mediaite.com