Jeb Bush Hopes Trump Shows 'Pragmatism and Compassion' and 'Governs Inclusively'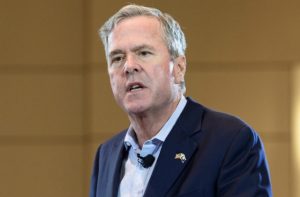 Since the election, Jeb Bush has not been speaking up that much publicly––save for online praise of some of the people Donald Trump has been choosing for Cabinet and advisory roles––but he has an op-ed out today in The Wall Street Journal on what he thinks both Trump and the GOP need to do now.
One of the most significant parts of Bush's piece is his call for convening a constitutional convention to give more power back to the states, an idea that has percolated through conservative circles for a few years now:
Republicans should support convening a constitutional convention to pass term limits, a balanced-budget amendment and restraints on the Commerce Clause, which has given the federal government far more regulatory power than the Founders intended…

The GOP should use its power in Congress and state capitals to test ideas to transform education, limit burdensome regulations, accelerate innovation and unleash our economy.
And Bush, who said months ago he couldn't bring himself to vote for Trump, is now saying, "I want him to know that I hope for his success. I hope that he broadens the GOP, works across the aisle and governs with pragmatism and compassion."
Trump's former rival does not dwell that much on his past clashes with Trump, simply remarking at the top, "Donald Trump's successful primary campaign was predicated on the idea that the GOP needs a new messenger and a new message. Mr. Trump proved that he was right—as I well know, since I was often in his target sights!"
But he also takes note of how Hillary Clinton won the popular vote and says Trump and the GOP need to step up:
Republicans must restore our brand as the party of conservative ideals, shared prosperity, liberty and responsibility… We can do this without stooping to the identity politics of the left. Let's not focus on angst, grievance and division over race, class or gender. Our party must be big-hearted and creative and opportunistic. We must make it clear that there is no room in our tent for despicable bigotries like racism, misogyny or anti-Semitism.

I will continue to pray for President-elect Trump and his family. I pray he governs inclusively, with humility and with purpose. I pray that he will be led by a deep love of this nation and each of its citizens, regardless of background or ZIP Code.
You can read the full op-ed here.
[image via Shutterstock/Crush Rush]
— —
Follow Josh Feldman on Twitter: @feldmaniac
Have a tip we should know? tips@mediaite.com
Josh Feldman - Senior Editor