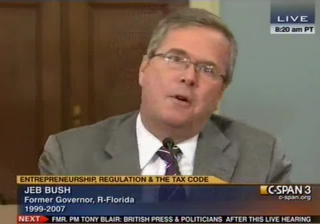 When former Florida Governor Jeb Bush testified before a House Budget Committee hearing Friday morning, he faced aggressive questioning from a familiar face: Rep. Debbie Wasserman Schultz (D-FL), a fellow Floridian. After a lengthy lecture directed at the former governor, the congressman asked a confrontational question about a particular bill he supported during his tenure, Bush shot back and defended his record.
Rep. Wasserman Schultz spent four minutes berating Bush for his decision as governor to use tax dollars to lure to Florida the private research institute Scripps, as opposed to public education or healthcare. Rep. Paul Ryan (R-WI) interrupted her remarks, asking "Is the gentlelady going to give gentleman time to respond?"
The congresswoman shot back, "I'm trying. You just took some seconds off my time. So if you'd restore it, I'd appreciate it," and then continued on for another minute before asking her question:
Given the students graduate unprepared for college-level work, tens of thousands of children languish on a state waiting lists for affordable childcare, how could you justify giving away $600 million in public funding with no accountability to a private company?
"Welcome to the budget committee, Governor Bush. You have nine seconds to respond," joked Rep. Ryan. "We'll let you go over your time."
The former governor responded:
The Scripps Research Institute is not a corporation. It's not a for-profit company. It is a premier not-for-profit research institute that does world-class research. The accountability that you voted for — I'm glad that you voted for it. You weren't against it before you were for it, you were for it before you were against it. Now I'm happy that we had your vote. The money would go out based on the 575 jobs that are in the process or probably already have been completed. So this is an idea to spur innovation, to spur additional activity. It gets hit by the downturn in the economy, but there has been significantly higher numbers of jobs, spin-off jobs or jobs created because of Scripps … and other institutes.
Following his response, Rep. Wasserman Schultz attempted to speak again, before being interrupted by committee chairman Rep. Ryan, who said, "The time has expired."
"I know, Mr. chairman. I'm not going to respond," she responded.
"Do you have his consent?" Rep. Ryan asked. "To include something in the record?"
The congresswoman revealed that she wished to include a Sun-Sentinel article to the record that called Bush's plan a "debacle." The committee added it to the record, and then Rep. Ryan asked, "Governor Bush, were you finished with your answer?"
Bush laughed and deadpanned, "It's a joy to be here."
Check out the clip below, via C-SPAN3:
(H/T Washington Free Beacon)
Have a tip we should know? tips@mediaite.com