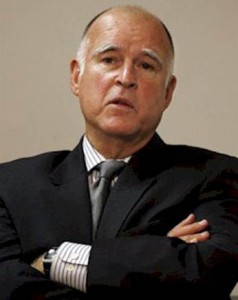 Three weeks ago, California Democratic gubernatorial candidate Jerry Brown vowed during an interview with local San Francisco radio station KGO to run a mudslinging-free campaign against his Republican challenger Meg Whitman. Funny, considering not long before that Brown referred to Whitman and her then-rival Steve Poinzer as "the apostles of darkness and ignorance." But okay, honest campaigning should be encouraged. Let's give it a shot.
Or not. On Wednesday news broke that during a chance run-in with San Francisco KCBS radio reporter Doug Sovern, Brown likened Whitman to infamous Nazi propagandist, Joseph Goebbles. If that's not mudslinging, then I don't know what is.
As Sovern reports on his blog, Brown is intimidated by Whitman's extensive financial resources and is worried she could easily turn that money into an effective smear-campaign against him. To be fair, Whitman does have a lot of monetary power at her disposal. The former eBay chief executive spent at least $81 million during her primary campaign alone, most of it out of her own pocket. But why leave your concerns there when you could also compare Whitman to a Nazi propagandist with presidential aspirations? From Sorven's blog:
The he went off on a riff I didn't expect.

"It's like Goebbels," referring to Hitler's notorious Minister of Propaganda. "Goebbels invented this kind of propaganda. He took control of the whole world. She wants to be president. That's her ambition, the first woman president. That's what this is all about."
Whitman's campaign issued a statement yesterday expressing justifiable offense. Meanwhile, Brown's campaign spokesman, Sterling Clifford, found himself faced with the rather difficult task of explaining Brown's comments to the Associated Press:
[It was] a discussion after a chance meeting while they were exercising. I wouldn't vouch for the accuracy of it, but I also don't want to dispute the accuracy of it. It was jogging talk taken out of context.
Okay, first, that bit about vouching for and disputing the accuracy of Sorven's post is the most ambiguous sentence I've ever seen. And second, "jogging talk"? Mr. Brown, you were talking to a reporter. How does being out for a jog justify keeping your conversation off the record, exactly?
Then again, maybe smear campaigns would be less exasperating and more entertaining if politicians insulted each other whilst wearing track suits and sneakers.
Have a tip we should know? tips@mediaite.com