Jersey Shore Finale: Did Snooki Break Character, And Will We Ever Care Again?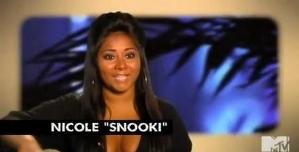 Some Jersey Shore haters will say the show jumped the shark when it started, while others will say it should have stopped after season one.
For me, it sadly came in the middle of the final episode of season two, when Snooki appeared to inexplicably break character (we have the video evidence). It was a heart-breaking moment in a boring episode that could signal something disastrous about our favorite cast of juiced-up Jerseyans.
The episode revolved around finding plausible conclusions to these over-tanned transplants in Miami, winding down relationships and more. That included Vinny and Pauly D going on final, half-hearted dates with their respective Miami "girlfriends." Pauly D was sad. "I'm glad that I met you, you know what I mean?" he said, lovingly.
It was a nice date, but through all the smushing and smashing that went on this season, Pauly revealed he never tried to bed Rocio. "I'm not going to try to smash it out with Rocio before I leave," he tells us later. "I don't need to, I'd like to get to know her first."
Wait what? Even Vinny and Ramona smushed, at least according to the MTV editing. Pauly D, who is leaving this girl he has feelings for, supposedly, is now not going to try to make the move because…he'd like to get to know her first. Stunning and simply out of character. Maybe we just don't know Pauly D as well as we did after two full seasons. More on that later.
The two people we probably know the best are the Lucy and Ricky of our time, Ronnie and Sammi. They are awful people who will probably get married and have children and reality shows and then get divorced and then get remarried and make everyone who ever comes into contact with them miserable. "Do you think we can get through anything?" asks Sammi. "I think we pretty much have," says Ronnie. "Like, the worst?" she asks.
This signals Sammi going into Mr. Hyde mode, as Ronnie puts it. "I don't like you, like, weird, so fix it now," she says, but he can't so they end dinner mad at each other. "I'm just like, fuck this I need a drink," he says. Then they go to the club, the fight continues, until Ronnie says he loves her, she apologizes, they kiss and laugh and Sammi says, "We always work through our problems." Please, MTV, cut these two from season three.
And Then: THE BEGINNING OF THE END (Snooki Breaks Character, With Video)…
Have a tip we should know? tips@mediaite.com