Jersey Shore Recap, Ep. 2: "Snooki Night" Aftermath And A Pathetic Angelina Slap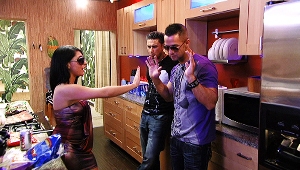 We live in a country now where someone named Jwoww can tell five million people on TV about a certain guy from Long Island who goes by the name Jay 420, and you can then find out exactly what Jay 420 thinks of the mention. And also – he goes by Dr. Jay 420…he didn't go through years of 420 school to have you drop the Dr.
Also this week we learned about the IFF (not to be confused with the GFA) and how to have a "Snooki Night."
We pick up where we left off last week, with Ronnie going wild with some grenades and land mines at B.E.D. "We're just like, really?" says The Situation (from now on, we'll refer to him as his nickname's nickname – Sitch). Sitch is not really looking to give Ronnie props for his successful night of stripper pole dancing and triple-kissing, because he thinks the girls were grenades (and not because he's jealous at all). Basically, he's hating. "I'm not hating, dog," says Sitch.
Ronnie's plan upon returning? Cuddle up with Sammi, deny anything happened and sleep in his ex-girlfriend's bed. This can't possibly go wrong. Sitch, ever the truth-teller, sums it up: "The whole Ronnie Sammi situation? Bad situation." When everyone wakes up, Ronnie is hungover. (Here's the song that played, which is pretty solid hangover music.) "I had a Snooki Night," says Ronnie, noting his black-out-ness. But Pauly D has a different interpretation. "Ronnie's name is 'I'm fucked,'" he declares. This is part of a larger organization: "Iff – I'm Fucked Foundation. He's a client and the President."
The boys, but specifically Sitch, are awful at trying to keep the news of Ronnie's wild night secret. Luckily it didn't take long before Ronnie was spilling all the details to Jwoww. "I got wild last night," he said. "Three-way kissed. I was on stage, motorboating the jelloshot girls, are you kidding me?"
No Ronnie, we are not kidding you. While Sitch prepares dinner (which Snooki, the "walking disaster," later drops on the floor), the girls go shopping. Jwoww is in heaven: "The sex shop is perfect. Perfect, perfect, perfect. It's my scene, and when I get into my scene I get into my clothes." With the chicken deemed inedible, it was time for Sitch to order dinner instead. The name he uses? Situation. "Whatever man," says the guy on the phone, who probably gets this all the time.
>>> NEXT PAGE: Video of the sad Angelina Slap and more…
Have a tip we should know? tips@mediaite.com