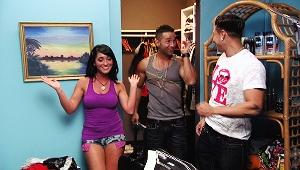 Jersey Shore is back, and the crew of non-Jerseyites have moved south to Miami, bitch (that will happen all season).
Yesterday we worried if self-awareness would pervade the show, and the fact that the four biggest stars (Jwoww, Snooki, The Situation and Pauly D) were barely involved in the episode one plot proved it true so far. But the crew still made a big mess, so all was forgiven.
The first season began with a brief update on each cast member, and an anthropological glance at the guidos and guidettes in their natural habitats. Being unable to "creep in this weather," Pauly D began the road trip down the East Coast. Meanwhile Snooki has found love – or at least an "amazing gorilla juicehead" she's been dating for a couple months. But when she goes to Miami, will she remain faithful (hahahaha)? "I feel like I'm going to be a like a tornado, I'm just going to go from place to place, like destroying it," she said. More on Snooki's faithfulness later.
Pauly D reveals he and trashbag-toting guid-outcast Angelina hooked up in a club in LA between seasons. This is important because Angelina has returned. "They basically invited me, so I'm gonna go," she said, which is not true like everything else that she says this episode. She also allows cameras to show her getting a Brazilian wax.
During Snooki's ride down south, she meets a young man quite smitten with her orange hue. "Obviously he like, fucks his sister for a living," she said. Not just fucks his sister – but does it as a means of employment. When Angelina arrives at the house, already occupied by The Situation and Pauly D, they are caught off-guard. Angelina says she will "do whatever it takes to basically be cool with these people," which she definitely won't, and The Situation explains why he's really not thrilled about the situation. "We really don't really hate on anybody, but deep down inside we didn't really want her to be here," he really said. Will Angelina hook up with one of the two stars? "If I hook up with one of yous one night who gives a fuck," she said.
Let's take a quick break from the recap to talk about what happened during the commercial breaks. First of all, the end-of-summer movies are using the Jersey Shore cast to essentially endorse their products, which is jaw-droppingly sad. During "Blockbuster Situation" commercials, the cast intro'ed trailers to The Other Guys and Takers. Meanwhile Bad Girl's Club is apparently looking to capitalize on the Jersey Shoreness, as their new season takes place in Miami as well. Also, the Jersey Shore season 1 DVD includes cast commentary, so you can finally find out what was in that glowing briefcase or something.
Back to the recap: Sammi and Ronnie now must live together despite having previously dated. Jwoww is unpacking, and suddenly Ron-Ron Juice is all over Sammi's clothes. For the uninitiated, Jwoww spilled a drink. Meanwhile Angelina sits next to Ronnie in the hot tub, and Sammi isn't pleased. "I will legit beat the living shit out of Angelina and Ron at the same time," she warned.
>>>NEXT PAGE: Finally they go out, and The Situation introduces new vocabulary.
Have a tip we should know? tips@mediaite.com