Great Television Moment: Reps Anthony Weiner And Peter King Battle Over 9/11 Aid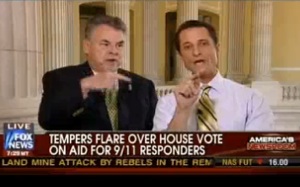 Anthony Weiner and Peter King have all the makings of that classic tv sitcom trope: two guys that get on each others nerves, but really are just good pals. They've much in common: both represent New York in the U.S. House of Representatives, representing different districts (and political parties.) And both avow to loving their country and want to honor and aid those who have sacrificed in our hour of need. But they seem to really disagree over the specifics – in this case, the process by which first responders to 9/11 can receive aid.
Fox Anchor Bill Hemmer tries to moderate the debate between the two fiery elected officials, but wisely decides to stay out of the way, perhaps recognizing a great television moment when he sees it. At issue is the bill known as the James Zadroga 9/11 Health and Compensation Act, designed to honor first-responders who were eventually sickened by airborne toxins after the events of 9/11. The bill was defeated, which lead to an unbelievably emotional speech on the house floor yesterday by Weiner (do yourself a favor and watch this video later.)
The back and forth between King and Weiner is probably best left explained — it must be consumed visually to fully appreciate. As the clip ends, Hemmer chimes in that this is the reason why congress has such a low approval rating, and that is likely very true. But there is merit to a healthy debate – even if it devolves into finger pointing and puerile wincing. But then again, maybe that's what democracy sometimes looks like?
Have a tip we should know? tips@mediaite.com
Colby Hall - Founding Editor