Jimmy Kimmel: Barbara Walters 'Unhappy' Over Joke At Her Expense At Correspondents Dinner
Kimmel: Barbara Walters 'Unhappy' Over Joke At Her Expense At Correspondents Dinner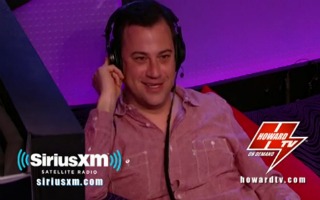 Appearing on the Howard Stern Show on SiriusXM Radio, ABC host Jimmy Kimmel told the radio host that ABC's The View host Barbara Walters was mad at Kimmel for making a joke at the White House Correspondents' Dinner that poked fun at her trademark speech impediment.

RELATED: Jimmy Kimmel Goes After Obama, Republicans And The Press At W.H. Correspondents Dinner
Kimmel described an argument that he had with Walters following the WHCD. Kimmel says that Walters was not happy about a joke that he made at the WHCD which lampooned her famous speech impediment.
The Stern Show hosts asked Kimmel to reiterate his joke, which he said was "talking about technology and, you know, how far we've come."
"20 years ago, a 'tweet' was something Barbara Walters gave her dog," said Kimmel recounting the joke. "She's sitting in the office…"
"She thought that was bad," asked Stern.
"She was unhappy – she even complained about it on the show the next day," said Kimmel.
"What did she say," Stern followed up.
"She said that she didn't think it was funny and there was some reference to a physical handicap," said Kimmel. "I don't know if she's considered handicapped."
"She gets to park in that special spot," said co-host Robin Quivers.
"And then they asked her to say it," said Kimmel. "'Say treat three times in a row,' and she's like 'tweet, tweet, tweet,' and everyone claps like oh, see, there's no speech impediment there."
Meanwhile, Walters is unlikely to have exhibited nearly the outrage over a joke that Kimmel (probably wisely) decided not to tell at the WHCD.
Watch the segment below via SiriusXM:
Have a tip we should know? tips@mediaite.com