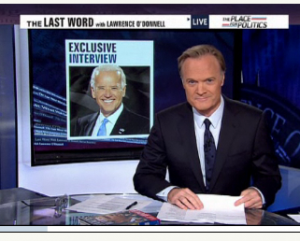 Vice President Joe Biden is apparently riding the straight talk express to his midterm campaign stops. Yesterday Biden told a group of Dem supporters in New Hampshire it was time for the Democrats to "stop whining."
"If we make this a referendum on the current state of affairs, we lose, and so that's why we've got to make this a choice…[we need] to remind our base constituency to stop whining and get out there and look at the alternatives."
Biden popped up again on Lawrence O'Donnell's new MSNBC show and further explained what he meant (though, I'm not sure how much explaining "stop whining" really requires).
Yes. What I think — what I mean by — there's some on the Democratic base, not the core of it, that are angry because we didn't get every single thing they want. We've got a health care bill that is becoming — every day it will become more apparent how much it does for people and businesses in terms of cost and availability. But because there was no public option, some of them are so angry, they say, we're not going to participate…What the President has been able to do has been truly remarkable with the help of a Democratic Congress. And so those who don't get — didn't get everything they wanted, it's time to just buck up here, understand that we can make things better, continue to move forward, but not yield the playing field to those folks who are against everything that we stand for in terms of the initiatives we put forward.
So basically, quit your whining and play ball. Maybe this could be the new campaign slogan. Watch Biden's segment below.
Have a tip we should know? tips@mediaite.com