Joe Miller's Security Team Handcuffs A Reporter Following Public Event (UPDATE)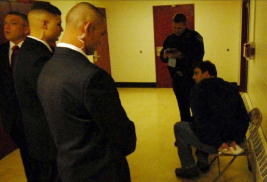 One wonders which part of upholding the Constitution this falls under exactly. Over the weekend, the security team of Alaskan Tea Party Senate candidate Joe Miller, who last week announced he was no longer answering questions about his personal life or background, handcuffed the editor of the Alaska Dispatch website to a chair, where he remained until he was released by Anchorage police. Update: Video of the arrest below. From the Anchorage Daily News:
The editor of the Alaska Dispatch website was arrested by U.S. Senate candidate Joe Miller's private security guards Sunday as the editor attempted to interview Miller at the end of a public event in an Anchorage school. Tony Hopfinger was handcuffed by the guards and detained in a hallway at Central Middle School until Anchorage police came and told the guards to release Hopfinger.

Hopfinger has not been charged but the owner of the Drop Zone, the private security firm that's been providing Miller's security, accused Hopfinger of trespassing at the public event, a town hall sponsored by the Miller campaign. The owner, William Fulton, also said Hopfinger assaulted a man by shoving him.
The Miller campaign subsequently released a statement about the incident titled "Liberal Blogger 'Loses It' at Town Hall Meeting" (if this campaign doesn't work out they will at least have a future in the blogosphere) but Miller refused to answer questions directly about the altercation. He reportedly also refused to answer uncomfortable questions during the public event, and despite promising to do so afterward was attempting to beat a quick exit when confronted with Hopfinger.
Hopfinger, who was holding a small video camera, said he was attempting to draw out a statement from Miller on why he was disciplined by the Fairbanks North Star Borough when Miller worked there as a part-time attorney. After Miller walked away, Hopfinger said, he was surrounded by Miller supporters and security guards and felt threatened, so he pushed one of them away….While Hopfinger was still in handcuffs, the guards attempted to prevent other reporters from talking to him and threatened them too with arrest for trespass.
None of the other reporters, however, were arrested. Meanwhile, Hopfinger's video camera was returned to him with the offending portion mysteriously missing: "The guard who grabbed the camera said Hopfinger had dropped it in the scuffle and denied erasing anything. The guard wouldn't give his name." Indeed.
Thus far, this anti-press mantra many of the Tea Party candidates and embraced appears to have worked in their favor, one suspects however, that security guards handcuffing reporters at a public event might set of some voter warning bells.
Meanwhile, assaulting reporters appears to be turning into a disturbing trend. Following Carl Paladino's "take you out" remark to Fred Dicker earlier this month, Democratic incumbent Rep. Maurice Hinchey allegedly assaulted a newspaper reporter over the weekend. One wonders what First Amendment devotee Sarah Palin will have to say about all this.
Update: Video of the arrest below. Alas, no video (yet) of what led to the video.
Related: Miller security guards handcuff journalist [Anchorage Daily News]
Have a tip we should know? tips@mediaite.com