Joe Scarborough Eviscerates Obama Over Failing Syria: History Will Remember 'He Was Frozen'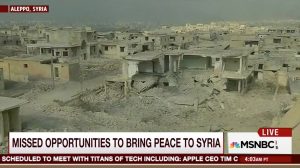 The statistics out of Syria are sobering.
More than 312,000 people have been killed and an additional 6.5 million have been internally displaced from their homes. Nearly 5 million Syrians have fled the country, often seeking refuge in neighboring Turkey as the city of Aleppo — once the largest city in the nation — has become ground zero for the greatest humanitarian disaster in our lifetimes. The historic city lies in bloody ruins; tens of millions more require humanitarian aid, and 82 civilians were slaughtered on Monday alone by the Syrian authoritarian forces as president Bashar al-Assad regains portions of the city. Monday's senseless killing included, "11 women and 13 children, some shot in the streets as they tried to flee the fighting," according to the New York Times.
It's a crisis that has been front and center in many Morning Joe panel conversations this year, and cohost Joe Scarborough has been extremely critical over President Barack Obama's seeming inaction over effectively dealing with the escalating problem. Obama famously issued a "red line" threat against Assad over chemical warfare, an ultimatum to use force that ended up, instead, in inactive resolution.
"At the end of the day, we did nothing," Scarborough alleged Wednesday morning. "We sat back. How did we, in 2011, see barrel bombs kill women and children and do nothing?" Mika Brzezinski called it a holocaust; Scarborough agreed.
"I think the historic mistake that will follow Barack Obama's legacy for as long as historians are writing about his Presidency was the fact he did absolutely nothing. That he was frozen and did absolutely nothing and was so driven by his desire to not be seen as George W. Bush," Scarborough continued. "And have a wing in his Presidential museum that says 'peacemaker' that he was frozen and did nothing."
Watch the segment above via MSNBC's Morning Joe.
—
[image via screengrab]
Have a tip we should know? tips@mediaite.com