John Boehner: House Won't Pass Another Sequester Bill Until Senate 'Gets Off Their Ass And Passes It Once'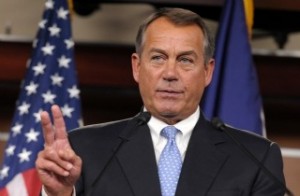 There has been a blame frenzy going on in Washington ever since politicians realized the nation may actually be affected by the sequester that Congress set up and is now not happy about. The White House has blamed Congress, Congress has blamed the White House, but there is also an ongoing intra-congressional fight over which house is taking less action on preventing it. The latest grenade was lobbed early today by House speaker John Boehner, who said the Republican-led chamber has already passed two bills dealing with the sequester, and they shouldn't have to pass another one until the Senate "gets off their ass and passes it once."
RELATED: Who Do You Trust On The Sequester? The President, Republicans or…Bob Woodward?
Following a closed-door meeting early today, Boehner laid the blame for lack of Congressional action in preventing the automatic sequester on the Democratic-led Senate.
We have moved a bill in the house twice. We should not have to move a third bill before the Senate gets off their ass and begins to do something.
The House already proposed a plan to replace the sequester cuts with a series of other cuts. Boehner asked today what Senate Democrats intend to do. Right now there are currently two separate sequester proposals being considered in the Senate, one backed by Democrats and one backed by Republicans. Do either have a chance of passing before the deadline? According to The Hill, both Senate leaders, Harry Reid and Mitch McConnell, have already accepted that their respective proposals are "dead on arrival" and the only reason they're forging ahead with these unlikely-to-pass bills is to "secure public support in the messaging war over sequestration."
However, Senate Republicans now appear to be ready to accept the $85 billion cut that will go into effect after the Friday deadline.
Watch the report from CBS below:
h/t POLITICO
—–
Follow Josh Feldman on Twitter: @feldmaniac
Have a tip we should know? tips@mediaite.com
Josh Feldman - Senior Editor