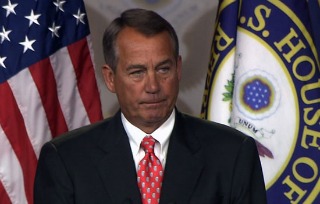 The Wall Street Journal's Stephen Moore sat down with House Speaker John Boehner for an interview about his feelings about the recently passed fiscal cliff deal and notes that at one point, Boehner said grimly, "I need this job like I need a hole in the head."
Moore describes Boehner taking "long drags on one cigarette after another" throughout the interview and says he looked "battle weary" from the long and drawn out fiscal cliff negotiations. According to Moore, Boehner recounted a meeting with President Obama in which he was shocked to hear the president say, "we don't have a spending problem."
Boehner also addressed the "fuck you" heard around the country. Directing his anger at Senate Majority Leader Harry Reid, Boehner said, was a product of being shocked at the things he heard were being said about him:
"Those days after Christmas, I was in Ohio, and Harry's on the Senate floor calling me a dictator and all kinds of nasty things. You know, I don't lose my temper. I never do. But I was shocked at what Harry was saying about me. I came back to town. Saw Harry at the White House. And that was when that was said."
RELATED: Wall Street Journal On GOP Debt Ceiling Threat: 'You Can't Take A Hostage You Aren't Prepared To Shoot'
Boehner also confirmed a widely-reported incident in which he asked Obama what he was getting for $800 billion in taxes and the president replied, "You don't get anything for it. I'm taking that anyway."
According to Boehner, the president has been so forceful in the negotiations because "he's so idealogical himself" that he's "unwilling to take on the left wing of his own party." He also said the press portrayed Republicans in a negative light.
What happens next? According to Boehner, two things are certain: Republicans won't be agreeing to any more tax hikes and he will not be meeting with the White House behind closed doors. He called the one-on-one meetings "futile."
The leverage in future negotiations, Boehner said, isn't the debt ceiling as many believe, but rather the automatic sequestration spending cuts.
Asked if he and the president will be able to work together, Boehner responded: "He believes in the power of government. I believe in the power of the American people. It is really that simple."
h/t WSJ
—
>> Follow Anjali Sareen (@AnjaliSareen) On Twitter
Have a tip we should know? tips@mediaite.com