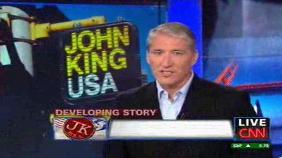 John King, anchor of John King, USA, is "doomed" says the New York Post's Page Six today.
Meanwhile, Newsmax has a different take: "King, of CNN" says the headline of a lengthy, glowing profile of King. So, what is it?
From the Page Six piece:
The next head to roll at CNN will be John King's, insiders say. "Since King replaced Lou Dobbs, he's lost more than half his audience," one source told us. "If it were a fight, it would be stopped on a TKO because of the bleeding."
The plan, according to the NYP source, would be to put Wolf Blitzer at 7pmET, giving him his third hour again.
Two things about this possibility. This comes on Day 1 of former Washington Examiner reporter Tara Palmeri's career at Page Six. Palmeri can be credited as one-half of the Yeas and Nays column that broke the news Eliot Spitzer was in talks to jump to CNN – which of course turned out to be true.
But also, the idea King is on his way out of CNN anytime soon sounds extremely premature. CNN/U.S. President Jon Klein promised patience with the show when Mediaite interviewed him recently, and the program is really one built for the midterm elections. If November comes and goes and the ratings haven't improved, maybe that's when CNN looks to switch things up for 2011.
And then – there's Newsmax. King, Ronald Kessler writes that King was "awarded Lou Dobbs' slot," and is "finding new ways to explain America to Americans."
From the profile:
With King, there is no smirking at liberal views, no raising of the eyebrows when conservatives speak. When contributor Eric Erickson of RedState.com leaves out a point that might buttress his conservative arguments, King gladly supplies it…

"We are in a transition period in our business, and there are a lot of questions about how do you try to stay objective and middle of the road but be distinctive," King says.
There's also this interesting quote from King, which will likely satisfy the right-wing readership of Newsmax. "I am fascinated by what motivates people to get involved in politics, so I like going to school committee meetings. I like going to tea party rallies. I like watching people work phone banks or go door to door and knock on doors, whether they are Christian conservatives who oppose abortion or whether they are labor union activists who are trying to get an increase in the minimum wage."
He likes going to tea party rallies! I know someone who used to be at CNN who wasn't really a fan.
As for the ratings, King reiterated the long benchmark he told Mediaite when his show first launched: "Give the new show at least nine months, King says."
December 22. See you then!
—–
» Follow Steve Krakauer on Twitter
Have a tip we should know? tips@mediaite.com