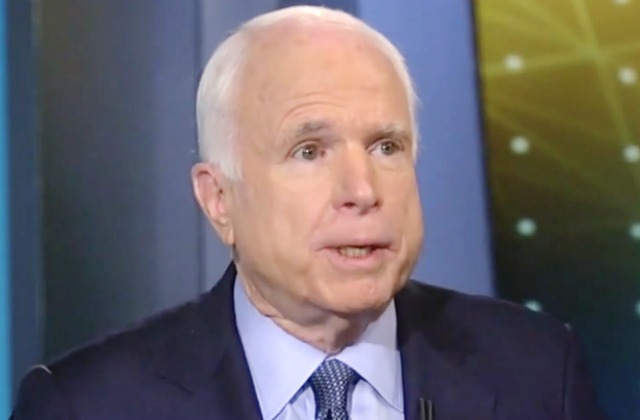 Sen. John McCain's recent surgery could be more serious than what the public has been told, according to medical experts that have spoken to The New York Times.
In a statement from his office, the 80-year-old senator underwent a "minimally invasive craniotomy with an eyebrow incision" on Friday at the Mayo Clinic Hospital in Phoenix in order to remove a two-inch blood clot above his left eye following a routine annual physical.
While his surgeons have yet to speak to the press, neurosurgeons uninvolved with McCain's surgery explained to the NYT that a craniotomy is an opening in the skull and the eyebrow incision was used to reach the blood clot left frontal lobes of the brain.
Dr. Nrupen Baxi, an assistant professor of neurosurgery at the New York City-based Albert Einstein College of Medicine, said that a blood clot in such an area is "usually very concerning," adding that the recovery time from a craniotomy is "usually a few weeks."
While the Mayo Clinic Hospital has released a statement saying McCain "was recovering well and in good spirits at home," some are calling his recent episode at the Comey hearing into question, where he asked the former FBI Director an incoherent line of questioning.
"Usually, a blood clot like this is discovered when patients have symptoms, whether it's a seizure or headaches or weakness or speech difficulties," Dr. Baxi continued, adding that it's typically "not found on a routine physical because doctors would not know to look for it."
Dr. David J. Langer, the chairman of neurosurgery at Lenox Hill Hospital in Manhattan, predicts the likely diagnosis was a subdural hematoma, when blood collects between the dura and the brain.
"You would hope it's a subdural, a relatively benign process," he elaborated. "It's common in the elderly, especially if they're on blood thinners. It can occur from relatively minor head injuries. The elderly brain loses volume, and as it retracts, the bridging veins from the brain to the dura are under increasing tension, and minor trauma can cause them to ooze or leak."
He called the operation "relatively straightforward.
"He would be able to return to being a senator in a relatively short period of time with no ill effects," Dr. Langer added. "This is an assumption. But it sounds like something not life-threatening or even a career-threatening problem."
Dr. Philip E. Stieg, the chairman of neurological surgery at Weill Cornell Medicine and the neurosurgeon in chief at New York-Presbyterian, agreed with such sentiment, saying it was a "good sign" that McCain was able to go home quickly, but also mentioning that his history of melanoma, an aggressive skin cancer, could be related since it is known to spread to other parts of the body, particularly the brain where it can cause bleeding.
"The good news is that five centimeters is a sizable blood clot, but in the frontal lobe, it should be well tolerated and hopefully he won't have any neurologic deficits," Dr. Stieg stated.
Senate Majority Leader Mitch McConnell has already deferred any action on health care reform until the Arizona senator recovers.
Have a tip we should know? [email protected]