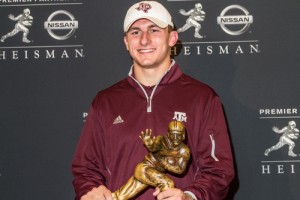 Johnny Manziel, plus unemployment, plus a weekend wedding in Hawaii figured to be a toxic mix. And indeed, it appears that things did get out of hand. According to a TMZ Sports report, the former Cleveland Browns quarterback punched a fellow wedding guest in the face during a heated altercation on Friday night.
The story alleges that Manziel and the unidentified man came to blows during the rehearsal dinner at the Four Seasons Resort in Hualalai. The QB was reportedly adamant that the man was hounding him throughout the evening, and instigated the altercation.
Eventually, the men threw down, with Manziel landing at least one shot to the head during the fracas. The two were quickly separated, and the police were not called.
Though Manziel was insistent that he didn't start the fight, the TMZ report claims that he did regret his actions — going to far as to send a bottle of champagne to the man the next day, along with a note of apology.
"Truly apologize," Johnny Football reportedly said. "Should have never done that. Know this won't make it better, but hope it starts the day off alright."
Though no other outlet has corroborated the report as of yet, Manziel did post a picture on Instagram the day after the alleged encounter, in which he's wearing a bandage on his finger.
Another recent Instagram post from Manziel has drawn some attention. In a video posted Tuesday, the free agent quarterback said that despite his release from the Browns, he'd be back.
"It can't end like this," Manziel wrote. "It won't."
[image via shutterstock]
— —
Have a tip we should know? tips@mediaite.com
Joe DePaolo - Senior Editor