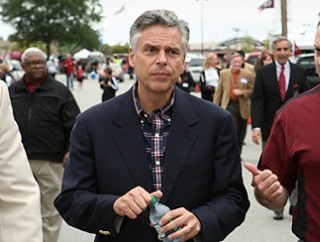 Jon Huntsman's campaign had been somewhat put on the backburner while the Iowa caucuses were the focus of the media, given that he had opted to skip them out. But as New Hampshire approaches, the former ambassador to China has been doing innumerable public appearances today, and he's not letting yesterday's winners take a victory lap, responding to Mitt Romney's Sen. John McCain endorsement the same way he reacted to the Rick Santorum surge: "Nobody cares."
RELATED: Jon Huntsman Says Iowans 'Pick Corn,' Not Presidents
According to MSNBC, Huntsman was asked in New Hampshire today by reporters on a campaign stop to react to Sen. McCain's endorsement. He said that had high regard for Sen. McCain– "I love the man"– but that no actual voters care when the establishment backs an establishment candidates:
"It seems the more establishment piles on, Dole, McCain, all the rest, nobody cares. Nobody cares about this. I mean, none of the endorsements that Romney picked up have been a thing in terms of how people respond, because the people are looking for a new generation of leadership. They're looking for a new approach to problem solving in this country. You can get all the Doles and McCains in the world as Romney probably will, but in the end, nobody cares."
Huntsman had a fairly mean streak that came out while Iowa was in play that may attribute to him losing so many voters in that state– besides the fact that he did not campaign there at all, he basically called the entire state irrelevant. Whether that dismissive attitude will do him well with New Hampshire voters– the only people he seems to hold in high enough regard not to mock– is yet to be seen less than a week from now.
[Photo via Time]
Have a tip we should know? tips@mediaite.com