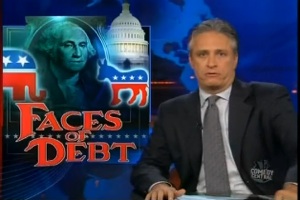 On The Daily Show last night, Jon Stewart pointed out how the Obama Administraton has been sending Joe Biden around the country to be the face of the so-called "Summer of Recovery."
But because Jon Stewart is, well, Jon Stewart, a clip of Biden touting his optimistically branded season was promptly followed by a mélange of cable news snippets that told of the summer's "dismal," "miserable," and "record-low" economic numbers. Ahem. Funny.
"Could the [Obama] Administration think of a more ill-conceived name for this summer?" Stewart asked with frustration. And as we enter what Stewart calls "The Autumn of Nothing But Ramen Noodles for Dinner," Austan Goolsbee, Obama's new Chairman of the Council of Economic Advisors, tried to backtrack on Biden's brazen claims:
The Vice President was talking about "The Summer of Recovery" in reference to the Recovery Act, that you would see the creation of a series of infrastructure and other projects ramping up over the summer, and you did see that.
Which, of course, sounds like something the Vice President would mean. Classic Biden! But Stewart still expressed his disappointment with Biden's deceptive phrase; Stewart compared it to calling something "The Summer of Losing My Virginity" but not mentioning:
Well, I was referring to the summer being dedicated to the spirit of losing my virginity, involving a ramping up of chocolate flower production in expectation of future sexual relations, only to find out, at the end of camp, that girls like jerks instead of romance.
In retrospect, though, Stewart's summer seems much more realistic than Biden's.
Have a tip we should know? tips@mediaite.com