Mediaite Supper Club: Geraldo Says Piers Morgan "Not A Choice I Would Have Made"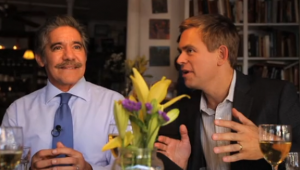 For the first edition of Mediaite Supper Club, a new video series, we had dinner with Geraldo Rivera of Fox News and Pat Kiernan of NY1 at Doma in the West Village.
The conversation ranged from Piers Morgan and CNN's prime time ratings troubles to Rupert Murdoch, Howard Stern, David Westin and Glenn Beck. Check it out:
To embed a smaller version click here.
[Doma is located on 17 Perry St. It is a new and exciting restaurant set within the confines of the coffee shop/cafe that villagers have loved for the past eight years. The cuisine is driven by the seasons and relationships with local purveyors.]
[This video was produced and edited by Ashwin Chaudhary and Ben Kahn of Juice Groove Films]
TRANSCRIPT:
SK: Is the future moving away from the NBC, ABC, CBS sit-at-a-desk-read-from-a-teleprompter?
GR: I think that, with Westin's departure from ABC News, that may be the end of an era there. I'm not suggesting necessarily it is, but a lot of people believe that there's one too many national network news programs at 6:00 or 6:30.
PK [TO GR]: I think you were a pioneer in something that may not even realize you were pioneering at the time, this idea of a personal brand for a journalist. Because you've taken that brand with you from one place to another. And it hasn't been an ABC brand or an NBC brand or a Fox brand so much as it's your brand. And that's something that I think is becoming way more important.
GR: The last big star that was created, I think, was Glenn Beck. He was big at HLN — or then, Headline News — but not nearly as big [as now] because he has a bigger platform. But I think what Glenn Beck did in D.C. and what he does on his radio show is an example of that. It's the Glenn Beck brand more than the Fox brand.
SK: Do you think that Glenn Beck is this generation's Geraldo Rivera?
GR: You could make that argument. You certainly could, in terms of his impact. But he would have a bigger argument with the person Steven Colbert calls "Big Papa" — or "Big Daddy" — Bill O'Reilly. He's still the number-one rated and number one in the demo.
SK: How about a time when NY1.com or FoxNews.com has a bigger appeal than NY1 and Fox News? Can you see that happening?
GR: It's already happening at CNN. CNN has a much bigger audience on CNN.com than on CNN. And when you look at CNN now, with all due respect, to what was the pioneering network. It seems kind of dull to me. A lot of it.
PK: Yes, I see that happening, where the web audiences are bigger than the traditional broadcast audiences. It scares the hell out of me, because you look at CNN.com and there's no substantial anchor presence on there.
GR: Maybe the new schedule will liven things up.
SK: Piers Morgan?
GR: I mean, I don't know, not a choice I would've made. If they keep getting the marquee interviews, and he does a reasonable job — as Larry [King] did — just allowing the marquee players to say whatever's on their mind. Seems pretty gray to me…
PK: This is the death of the mainstream media. Howard Stern's problem is that he went from a show that millions of people could access everyday to a show that was in subscription obscurity. And suddenly, people stopped talking about Howard Stern. The buzz wasn't there anymore.
GR: I see what Rupert Murdoch is doing for the Wall Street Journal and I think that that might be the Howard Stern of the Internet. If they can — if the Wall Street Journal is successfully charging for content. If you read any of the coalition of products from people doing any original reporting, there's one reporter and a thousand repeaters.
PK: Whenever I see a story about the decline on the newspaper business, I'm thinking, "Don't take my newspapers away!"
GR: They can read the blogs. Or Mediaite!
—–
» Follow Steve Krakauer on Twitter
Have a tip we should know? tips@mediaite.com